We at Facing History are so pleased to announce the winners of our first annual Facing History Together Student & Alumni Upstander Scholarship Contest.

The essay from Shireen Afzal of the Woburn Collegiate Institute in Toronto, Canada and the spoken word poem from Arvaughn Williams of the City Arts and Technology High School in San Francisco, California blew us away, and it's clear from the voting results that they captured the attention of the entire Facing History community.

Both students will receive a $2,500 scholarship toward their college tuition made possible by the Planethood Foundation.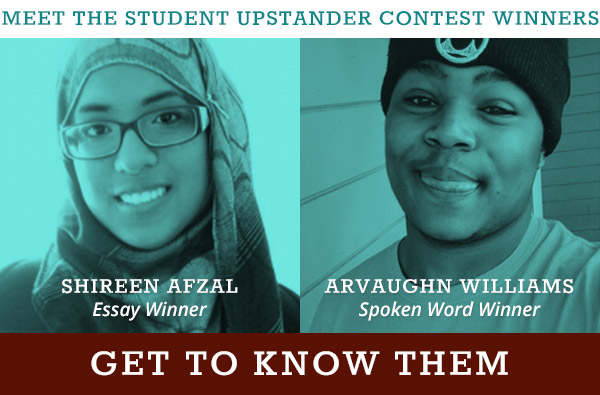 The Student & Alumni Upstander Scholarship Contest asked select students and alumni from Facing History's Innovative Schools Network and Margot Stern Strom Innovation Grant-winners to submit either a 500-word essay or three-minute video responding to a video profile of Benjamin B. Ferencz, a former prosecutor for the Nuremberg Trials who has dedicated his life to preventing mass atrocities through global intervention. Voters chose Afzal and Williams' entries out of a pool of 14 finalists chosen from over 175 total submissions representing students from around the world.
"If Facing History has taught me anything, it's that you can't just label an event as a tragedy and walk away; you have to confront it, strip away the complex layers of motives and causes in the hopes that you will become closer to understanding what lies at the core of humanity," Afzal wrote in her essay "One Word at a Time."
"My shoulders stand at attention, because the mission is to replace all of the history we have been missing...Pick up your pencil. Don't let them defeat your mental. Your mind is too monumental," Williams recited Williams in his spoken word poem "Reassurance."
I hope you'll read and watch these pieces in full and join me in congratulating the winners of the Benjamin B. Ferencz Upstander Award! Comment below to help us celebrate the winners!
About the Facing History Together Student & Alumni Student Upstander Scholarship Contest
An initiative from Facing History and Ourselves, the Facing History Together Student and Alumni Upstander Scholarship Contest recognizes students who share their ideas about igniting ongoing conversation about we can build a society free of racism, antisemitism, bullying, and hatred of all kinds. The award is made possible through the Planethood Foundation, in recognition of Ben Ferencz, esteemed Nuremberg Tribunal prosecutor and advocate for the rule of law in the establishment of world peace. Learn more.