Harper Lee's death reminds us that "To Kill a Mockingbird" is not only a classic work of American literature, but has also opened important conversations around the themes of race, justice, and morality. The day before Lee passed away, we published the following essay by writer Margaret Stohl, co-author of the bestselling young adult novel, "Beautiful Creatures," on why "To Kill a Mockingbird" mattered so deeply to her. Our Teaching Mockingbird curriculum helps educators bring the historical context behind the novel into their classrooms.
I have a problematic relationship with conformity. Though I was born in Los Angeles, two generations of my family came from a small town in rural Southern Utah, and they carried the seeds of that community with them to California long after they left the town itself behind. As I grew up, I noticed that my family was nothing like our neighbors or my friends at school. We had different views, different beliefs, and different approaches to life. At the same time, the longer I lived in California, the less I fit in with my own family. That's probably why, when I read Harper Lee's To Kill A Mockingbird as a teenager, I felt an immediate connection to the novel's main character, Scout Finch.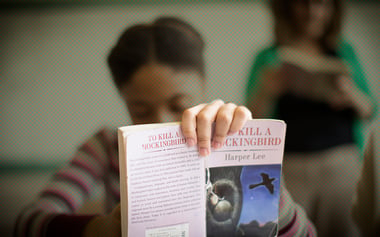 As a young white girl, Scout struggles to understand the world of her own sleepy 1930s Alabama town, especially when her father defends a black man accused of a crime. Like Scout, I understood what it was like to feel alone in a community, and to not necessarily agree with the people around me, even when they were grown ups. Sometimes this could feel lonely; other times it could be scary. But more than anything, this feeling of confusion and isolation was what prompted me to start writing, if only to examine and ultimately make my own place in the world.

Not being accepted by a particular community is a universal feeling. We've all been there at one time or another, whether we feel like outsiders in our towns, with our peers, or in our families. How we respond to that feeling and what we do with it shapes who we are as individuals. We might love and hate the places we come from, all at the same time. That's what makes Mockingbird so critically relevant, even today. The name of the town may change but the struggle remains.

Years after I first read Harper Lee's novel, when my oldest daughter was studying Mockingbird in school, a chance argument over whether or not the book was still relevant led to my writing a young adult novel, Beautiful Creatures (along with my friend, Kami Garcia). In our book, a group of teen characters are reading Mockingbird as their own story unfolds in a small community in South Carolina, mirroring the insider/outsider theme of Scout's town. The same question of free will versus history and conformity that plagued Scout resonates with our characters, and with our readers.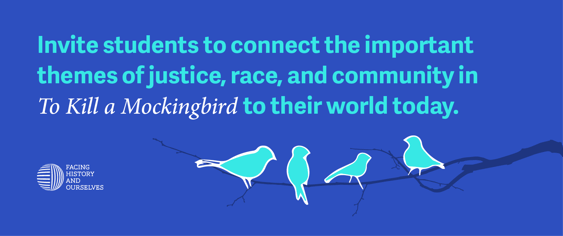 When I was asked to be an honorary judge for Facing History's 2016 student essay contest, which is inspired by Mockingbird, I couldn't refuse; the book has given me so much. This year's theme asks students to reflect on their own experiences and examine the forces that have shaped their identities. It's such a great opportunity for teachers to explore Mockingbird with their students in a deeper and more meaningful way.
Students often rebel against the literature they're made to read in school. I think sometimes having to read a certain book can feel as horrible as not having a book to read. We have to work hard to foster excitement in students, and to keep them engaged in the curriculum; this contest is one great way to do that for Mockingbird.
Teachers, I encourage you to challenge your students to use this contest to tell their own stories. Get them excited about this classic novel, and about sharing who they are with their peers. Energize them to be part of the conversation about identity, belonging, and community. It's an important conversation, and one that they'll be having for the rest of their lives, no matter who they are.
But for all the hyphenated kids out there, the ones like me, who have no choice but to grow up in the messy spaces between countries or cultures or inherited identities, that conversation is something so much more than just talk. It's the closest thing I had to a home, even if I had to build it myself, one painful sentence at a time.
So teachers, tell your students this for me: everyone can change their story, that's what stories are for. You're the only jury in your town. You make the laws. See who you are and do what you will. Then write it down.
I know that I, for one, can't wait to read it.