Last week, news broke about the discovery of 1,500 pieces of artwork – art that Nazis had confiscated during World War II. Found in a Munich apartment, the paintings included works by artists Pablo Picasso, Henri Matisse, and Marc Chagall, among others. The work is estimated to be worth about $1.35 billion, and is thought to be one of the most significant collections of prewar European art in the world. It may take years to determine the rightful owners of these works, many of which Nazis classified at the time as "degenerate art." In many instances the artists and owners sold to the Nazis under duress. In other instances, the Nazis seized the works directly.
Last year, professor of European History Jonathan Petropoulos visited Facing History's headquarters in Brookline, Massachusetts, to talk about the history of "degenerate art" in Nazi Germany, and the choices artists made under the Nazi regime. How did the Nazis use art to shape society? How did Nazis use both "degenerate art" and the official art of the Nazi party as propaganda? Watch Petropoulos discuss these questions here:

What role does art have in the study of history? What can we learn about the past through studying the arts? In the wake of the news, a New York Times article about the uncovered art addressed the issue:
What's especially moving about finds like the one in Munich, salvaged from the Nazi ruins, is not just that they survived all these years or that they might include lost masterpieces, although they rarely do. It is not even that they represent tokens of lost lives, millions of them. It is that they overcame what Hitler in another context once referred to as "the big lie," an untruth "so colossal," he said, that people could not help falling for it.

The big lie in this case involved the depravity of modern art. The lie was meant to turn death and destruction onto the world of art. But while paintings, drawings and sculptures are sadly fragile, the ideals they represent — the best ones, anyway — aren't. And so the painted woman by Matisse, fan in lap, a string of pearls around her neck, a veil draped over her hair, is a testament to art's indefatigable ambitions.
Bring your students into the conversation.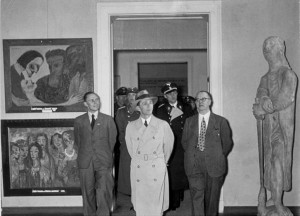 Show the video clip above, or this one about the choices artists made while living in Nazi Germany, as part of a flipped classroom exercise.
Use the teaching strategy Analyzing Visual Images to think critically about any of the art in the video.
Study events that led to World War II with our resource Facing History and Ourselves: Holocaust and Human Behavior.
Go deeper: Check out Petropoulos' two books, The Faustian Bargain: The Art World in Nazi Germany and Art As Politics in the Third Reich.