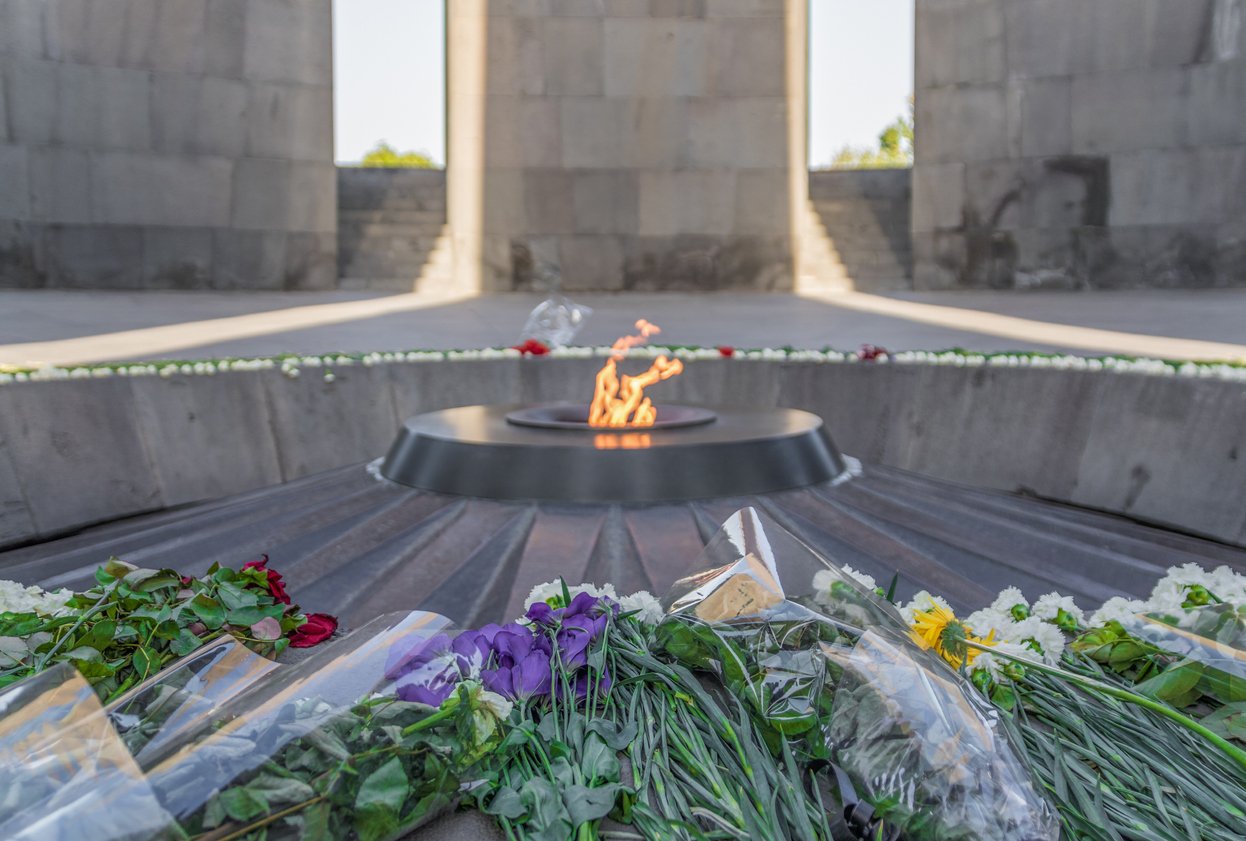 Today is Armenian Genocide Remembrance Day—an annual, international observance of the genocide of 1.5 million Armenians by the Ottoman Empire between the years of 1915 and 1923. Despite the denialist rhetoric and political coercion of leaders in Turkey, nations around the world are beginning to tell the truth about the genocide perpetrated against Armenians, and witness the Armenian community's immense resilience and humanity. After decades of political gridlock came to an end last December, the United States joined twenty-eight countries in formally recognizing the genocide. But there's much more that must be done to honor this history of genocide and, this year, Armenians are leading the way through an unprecedented campaign.
As Armenian Studies scholar Julien Zarifian shows, agitation to get the U.S. to acknowledge the Armenian Genocide has been an active movement in Armenian communities around the world since 1965 when—in connection with the 50th anniversary of the genocide—various political leaders began to speak out. It was also that year that Gerald Ford—then a congressman—delivered a speech in which he named the Turks as the perpetrators of the massacres against the Armenians. Ten years later in 1975, the U.S. House of Representatives passed a resolution designating April 24 a "National Day of Remembrance of Man's Inhumanity to Man" with specific reference to the massacre of Armenians. But once Ford became President, his allegiance shifted and he opposed the bill along with the Senate. Parallel efforts were made in the House in 1984, 1987, 1996, and 2004 but all met the same fate—they were blocked by the Senate.
Though the reasons for this persistent gridlock are complex, one source of obstruction has been American political leaders' desire to preserve the nation's relationship with Turkey. And it was not until these political tides turned in 2019 that formally recognizing the Armenian Genocide finally became a reality. By acknowledging this previously ignored history, this recognition has provoked great joy and catharsis for so many people. And yet, one cannot help but notice that this belated recognition seems to have arisen from political exigency, and perhaps not the moral courage that the Armenian victims of genocide—and their descendants—have deserved for decades.
But even amid this complexity, the Armenian community is marking this Armenian Genocide Remembrance Day through a breathtaking act of charity and gratitude to the American people.
The Armenian Genocide Committee, United Armenian Council of Los Angeles, and Unified Young Armenians have joined forces to raise $1.5 million to provide meals to 1.5 million American citizens facing food insecurity stemming from COVID-19. This number was chosen because 1.5 million Armenian lives were lost in the genocide. But when Armenians were facing mass starvation, the American Committee for Near East Relief organized what was then the largest relief effort in American history to save Armenian lives. These efforts helped many more Armenians survive the genocide than would have otherwise been possible—and Armenian people have never forgotten.
"The project is about neighbors helping neighbors and paying it forward by honoring the past," said Armen Sahakyan, campaign co-organizer and Executive Director of the Armenian National Committee of America Western Region. "Feeding America estimates that one out of eight Americans is facing hunger these days… This is a way for the Armenian community to... honor all Americans who were instrumental in saving the Armenian nation during the genocide from 1915-1930 through Near East Relief," said Sahakyan.
Through this immense undertaking by the Armenian community, we see an example of what it truly means to embrace "never again" with a sense of duty and generosity. Here "never again" is an active prayer that touches the heart but also radiates outward, and is a selfless gesture of gratitude for those whose labor and sacrifices have helped us survive in times of crisis and deep suffering.
One hopes that coverage of this act of remembrance and charity will alert an even wider group of people to the history of the Armenian Genocide. But keeping this history alive remains important for all of us, including educators everywhere. One of the provisions of last December's Armenian Genocide Resolution (S.Res. 150) is "support for education about the Armenian Genocide in order to help prevent modern-day atrocities." As we wait to see what form this educational provision takes on a national scale, we invite you to begin learning and teaching this history now with the support of Facing History.
On Armenian Genocide Remembrance Day and beyond, let us bear witness to the crimes perpetrated against this community, and the inspiring strength, resilience, and humanity that Armenians continue to muster—and now model for all of us—in the face of great suffering.
--
Facing History and Ourselves invites you to use our teaching unit, "Crimes Against Humanity and Civilization: The Genocide of the Armenians" in your physical or virtual classroom.
IMAGE: A portion of the Armenian Genocide Memorial Complex, or Tsitstsernakaberd, located in Yerevan, Armenia.