An immigrant from West Africa, Alhassan Susso came from a long lineage of storytellers known as griots. He recently published his first memoir, The Light of Darkness - The Story of the Griots' Son, which traces his journey to America as a nearly blind teenager and the balance of becoming American while maintaining his deep African roots. On Facing Today, he shares how his own cultural perceptions - and the perceptions others had of him - helped him create a classroom of compassion, understanding, and tolerance as an American History Teacher.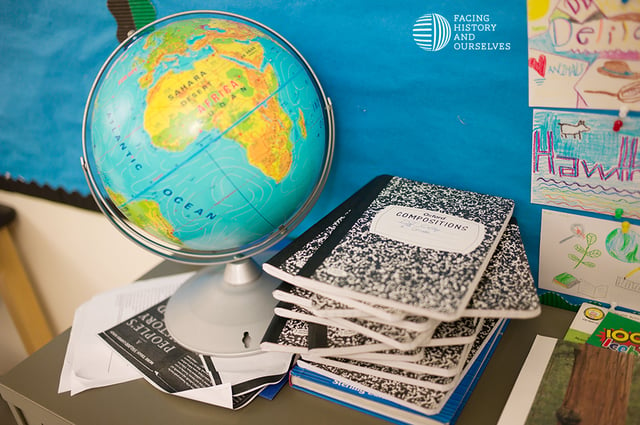 Moving from a small village in The Gambia to the United States, a large nation with so many diverse cultures, taught me that we often develop what I like to call cultural cataracts. It's when the social lenses through which we see become increasingly opaque and blurry. This is not a condemnation, rather a simple recognition of reality.
As an immigrant, I have had the unique opportunity to see both sides of this phenomenon. In America, I was confronted with preconceived notions of what Americans were: black Americans, white Americans, women, men, and children. Likewise, I was confronted with preconceived notions Americans had of Africans, of immigrants, of Muslims, and black men, often negative and fearful.
I first came across cultural cataracts in America two weeks after my arrival. I was 16 and in 11th grade. I ran out of clean Western clothes, so I wore my traditional African attire to school. I was complimented by teachers in every class I attended that morning. Except for one. When I walked into my history class, the teacher seemed to leer at me. After a few moments, the leer became a glare and he blurted out, "If people want to wear their funny dresses, they should stay in their country. This is America." I was shocked and so, it appeared, were my fellow classmates.
Eventually that teacher began to know me better. We developed a strong relationship based on understanding each other's backgrounds and values. I would go to him during lunch, when all the students would be in the cafeteria, and ask him for help since I knew nothing about U.S. history. He began to understand my story and who I was as a person rather than stereotypes and assumptions. As he began to internalize my story, he became interested in the connection between American history and immigration.
For our final class project, we had to interview an immigrant and write about their experience in America. By the end of the project, as we read these stories out loud, we decided to compile them into a book to share with the rest of our community. The publication of Poughkeepsie Pride: The Stories of our Immigrants became one of the most exciting and memorable experiences of my high school days.
So, while our initial interaction was an uncomfortable one, I learned from it. Not only about others, but myself as well. I learned to recognize my own cultural myopia. I too have had to confront my assumptions about black students in the inner city, white people everywhere, and my own culture.
It was during my first year as a high school global history teacher that my cultural misperceptions were put to the test. Most of my students were from the Dominican Republic, where hugging and kissing on the cheek are part of everyday life. But it bothered me because of my cultural conditioning, which considered this an inappropriate public display of affection.
Of course, I communicated this bias either verbally or non-verbally, setting a judgmental tone from the beginning by frowning upon on a natural and innocent behavior common to their culture. I was seeing through an African lens. A Muslim lens. A male lens. No wonder why I couldn't reach and therefore teach them.
After that first year of teaching, I went on a quest of personal development. I attended seminars geared towards adolescent development, emotional understanding and effective communication. I realized that in order to reach my students, I needed to understand their needs. Love and connection are significant driving forces in their culture. So, I adjusted my cultural lens to meet their needs. And as I began to peel away my own cultural cataracts, I quickly understood their cultures could be absolutely compatible with my beliefs and understandings of the world. That's when we were able to relate to one another and form productive relationships. I've come to learn that teaching is all about relationships.
Working with Facing History for the past three years has further expanded my worldview of compassion and tolerance. Their lessons about the universe of obligation and identity chart along with their Race and Membership curriculum have helped my students identify their own biases and broaden their understanding of identity and that we all come from the same race. This in essence led to creating a classroom of compassion, understanding, and tolerance.
If we all peel back our cultural cataracts, we begin to see the best of humanity. As educators, it is crucial to empathize with our students' situations before asking them to understand ours. We'll create more harmonious classrooms, tolerant communities, and eventually, a more unified world. We become, as such, better individuals, better teachers, and better citizens. The process begins at the foundation. As Maya Angelou insisted, "It is time for parents to teach young people early on that in diversity, there is beauty and there is strength."
Want to learn more about global immigration? Check out our resources on the topic, especially our new lesson, Understanding the Global Refugee Crisis. This draws on readings and short videos featuring US Ambassador to the UN Samantha Power, who recently spoke with students from Newcomers High School in New York City, to explain and humanize a crisis that often feels too overwhelming to confront.