Facing History in New York, in partnership with WNYC Radio's Radio Rookies program, helps public high school students develop digital storytelling skills through the Neighborhood to Neighborhood project. Each year, students in the program tackle complex questions about identity, race, education, and crime and violence in their communities. Using interviewing skills and multimedia tools, the students produce original visual and audio pieces. This post is the fifth in a five-part series introducing finished pieces from the Fall 2013 Rookies. Each post includes connection questions you can use in your classroom to discuss the works or to start your own project. This week: three teens look at bullying from a variety of perspectives, including professionals, students, and adults.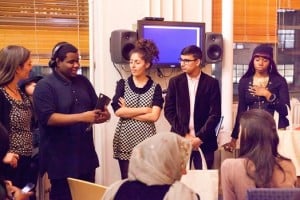 Welcome to Street View: Where We Get it Straight From the People—Radio Rookies' first-ever teen talk show! Under the helm of Radio Rookies host Sharnalee, reporters Cam and Ahmed collaborate in a group report about bullying from a variety of perspectives. Bringing the voices of family and friends into the studio, they ask some hard-hitting questions about bullying: "What's the difference between bullying and drama?" "How do you stop a bully?" and "Can bullies change?"
Watch Sharnalee, Cam, and Ahmed report on issues of bullying in schools today:
Connection Questions:
Throughout the story there are different perspectives on bullying. What were some of the ways different interviewees described bullying?
How would you define bullying? Do you think there needs to be a commonly understood definition?
Street View's host, Sharnalee, says, "It's normal for teenagers to fight." Do you agree with that?
What are some of the reasons that people engage in bullying? Why might someone who has experienced bullying and/or ostracism decide to bully someone else?
How did Rookie Reporter Cam explain his desire to bully a fellow student? What was his motivation
Do you agree or disagree with the phrase, "Once a bully, always a bully?" Explain.
One of the stories focuses on religion-based bullying. Is this something you've seen or experienced? How might schools and teachers address this?
In this story, there are a few references to teasing and bullying as a "joke." Do you think that directing negative comments toward someone else and/or making them a target for negative comments or behaviors can be understood as "joking?" Why or why not?
Forgiveness is a big part of Cam's story. What is forgiveness? Why might it be hard for some people to forgive their bullies, while others might find it easier? What does forgiveness mean for the bully and for the victim?
Facing History's case study on Bullying & Ostracism explores issues of bullying and ostracism through the lens of one particular incident at a middle school.
The Neighborhood to Neighborhood Project was made possible by the Hive Digital Media Learning Fund in The New York Community Trust and The MacArthur Foundation.

Check out the rest of the "Neighborhood to Neighborhood" blog series!