Facing History in New York, in partnership with WNYC Radio's Radio Rookies program, helps public high school students develop digital storytelling skills through the Neighborhood to Neighborhood project. Each year, students in the program tackle complex questions about identity, race, education, and crime and violence in their communities. Using interviewing skills and multimedia tools, the students produce original visual and audio pieces. This post is the third in a five-part series introducing finished pieces from the Fall 2013 Rookies. Each post includes connection questions you can use in your classroom to discuss the works or to start your own project. This week: two Facing History students look at life inside of a "co-located school"—a school that shares space with other schools inside of a single building. Check back next Friday when we hear from three teens about what it's really like to face teen pregnancy. Follow along!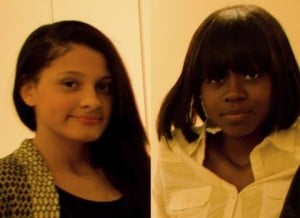 Under the administration of former New York City Mayor Michael Bloomberg, the number of "co-located schools"—multiple schools in a single building—doubled. Radio Rookies Leslie and Kiala attend one of these schools, which shares building space with five others. Each school operates on a different floor and draws students from many different neighborhoods. Sometimes there's tension between students from different schools once the final bell rings. Microphones in hand, Leslie and Kiala took to the hallways to find out more. Editor's note: School officials did not want the name of their school or campus included in this story, so it's been bleeped out from interviews.
Watch as Leslie and Kiala talk to students and educators about what life is like inside a co-located school:
Connection Questions:
In what ways (according to this story) might "co-location" be seen as a remedy to the problems that New York City schools face?
What role does the notion of "difference" play in this story? What role might conformity and/or allegiance play in this story?
Has a school you have attended ever had a rivalry with another school? How is that similar to and/or different from what you are hearing about in this story?
Does your school share physical space with other schools? If so, what is the relationship between the schools and/or students who share?
Are some physical and social spaces more likely to encourage tension than others? Is there something about schools (the buildings or the social structure) that might foster conflict?
In your opinion, why do some students use harsh words or physical violence to address conflicts
What suggestions do you have for minimizing the tension between these student populations? What suggestions do you have for increasing positive relations between these student populations?
We'd love to hear your answers - comment below or tweet to us @facinghistory
The Neighborhood to Neighborhood Project was made possible by the Hive Digital Media Learning Fund in The New York Community Trust and The MacArthur Foundation.

Check out the rest of the "Neighborhood to Neighborhood" blog series!