Facing History in New York, in partnership with WNYC Radio's Radio Rookies program, helps public high school students develop digital storytelling skills through the Neighborhood to Neighborhood project. Each year, students in the program tackle complex questions about identity, race, education, and crime and violence in their communities. Using interviewing skills and multimedia tools, the students produce original visual and audio pieces. This post is the second in a five-part series introducing finished pieces from the Fall 2013 Rookies. Each post includes connection questions you can use in your classroom to discuss the works or to start your own project. This week: two teenage rappers look at the frequent mentions of the drug "Molly" in hip-hop music. Check back next Friday when we look at the rise of "co-located schools"—multiple schools in a single building. Follow along!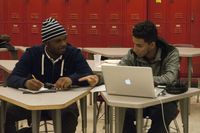 Facing History students and teen rappers Alejandro and Daniel—aka "Alex E. Styles" and "AR Danny"—have heard plenty about the psychedelic drug "Molly," the street name for an allegedly pure form of MDMA or "ecstasy." As Molly has grown in popularity, so has its mention in contemporary hip-hop music. Both Alex and Danny have chosen to stay away from the drug, but as aspiring hip-hop artists, they feel pressured to follow their peers and rap about Molly.
Watch as Alex and Danny consider the relationship between music and its influence on teens while marching to the beat of their own rhymes:
Connection Questions:
The premise of the story is that music and musicians can have an impact on the choices and actions of young people. Do you agree? Explain why or why not.
One of the interviewees suggests that (hip-hop) music can obscure or blur the lines of morality and influence criminal behavior (rape, drug use, etc.). Does music have the power to shape peoples' moral outlook?
Should musicians be held responsible for the influence that their music might have?
Rookie Reporters Alex and Danny say that sometimes people rap about their real lives, and sometimes they rap about what will sell the most records. What does this suggest about some of the reasons people listen to music? Does it matter to you whether the content of your favorite music is based in truth?
In the story, one of the Rookies says, "The media influences everything." Can you think of:

Three

examples of the way that music has had a positive impact on a social issue in the world?
Two examples of how music has had a negative impact on a social issue in the world?
One specific example of music's influence on you?
This is an example of a 3-2-1 teaching strategy. Discover this and 59 other Student-Centered Teaching Strategies here.
The Neighborhood to Neighborhood Project was made possible by the Hive Digital Media Learning Fund in The New York Community Trust and The MacArthur Foundation.

Check out the rest of the "Neighborhood to Neighborhood" blog series!