Facing History in New York, in partnership with WNYC Radio's Radio Rookies program, helps public high school students develop digital storytelling skills through the Neighborhood to Neighborhood project. Each year, students in the program tackle complex questions about identity, race, education, and crime and violence in their communities. Using interviewing skills and multimedia tools, the students produce original visual and audio pieces. On March 3, Facing History in New York will host a special after-school workshop featuring excerpts of the stories. The workshop will explore the ways that projects that feature and encourage student voices and experiences can enhance school-based approaches to important issues and meet the Common Core State Standards for Speaking & Listening. Dinner will be included and Rookie reporters who participated in the project will be present. Register today.
This post is the fourth in a five-part series introducing finished pieces from the Fall 2013 Rookies. Each post includes connection questions you can use in your classroom to discuss the works or to start your own project. This week: three teens talk about what it's really like to face teen pregnancy. Check back next Friday when we look at issues of bullying in schools from multiple perspectives. Follow along!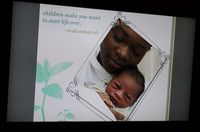 Many New Yorkers are used to seeing the ads that are part of New York City's teen pregnancy prevention campaign. Accompanying the face of a toddler are big-lettered statements like, "Got a good job? I cost thousands of dollars each year" and "Honestly Mom, chances are he won't stay with you. What happens to me?" Radio Rookies Shakoya, Marvin, and Anna-Lisa each have an experience with pregnancy and parenthood, but they did not see their stories reflected in the faces of the posters. This is their account of what it's really like to face teen pregnancy.
Watch as Shakoya, Marvin, and Anna-Lisa share a teen's perspective of teen pregnancy:
Connection Questions:
What challenges did the teens in this story share about their experiences and choices? What personal opportunities or benefits did they cite?
What difficult decisions have you had to make in your life? What factors contributed to your decisions? What support or guidance did you have?
This story suggests that it is important to know the true stories of teen pregnancy, not just representations in ad campaigns. How might personal stories help us understand or respond to the experiences of others?
In your opinion, what factors contribute to an individual's readiness to make their own decisions (age, gender, educational attainment, resources, etc.)?
Do you think anti-teen pregnancy advertisements and campaigns are a good idea? What might be the positive intent and impact of such ads? What might be the negative intent and impact of such ads?
Media Literacy - Analyzing Visual Images can be a useful teaching strategy when reviewing visual ads or images with students.
The Neighborhood to Neighborhood Project was made possible by the Hive Digital Media Learning Fund in The New York Community Trust and The MacArthur Foundation.

Check out the rest of the "Neighborhood to Neighborhood" blog series!
Register today for a Facing History Radio Rookies After-School Workshop March 3.