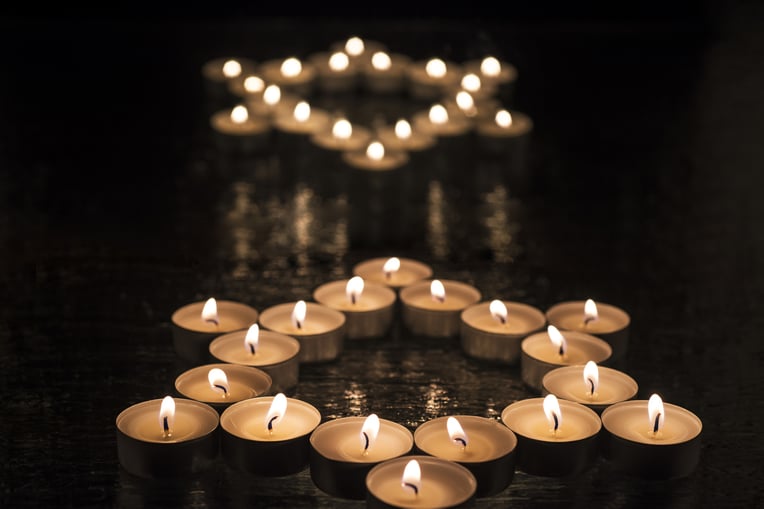 As we observe Holocaust Remembrance Day this year, we find much reason to pause, mourn, and reflect. As the recent insurrection at the U.S. Capitol revealed, we are living amidst a climate of hate in this country that seems to grow more visible and pervasive with each passing day. During the invasion of the Capitol, we saw demonstrators present a whole array of white supremacist symbols ranging from Confederate flags to signs displaying hateful, racist language. Though much of the discussion that has followed the insurrection has explored the racism on display that day, it is also crucial that we examine the virulent antisemitism that was also present and that is fueled by the same white nationalist ideas.
One insurrectionist wore a t-shirt displaying the words "Camp Auschwitz" and "Work Brings Freedom"—both references to the death camp and a loose translation of a slogan emblazoned on its entrance. Meanwhile, a video recorded at the insurrection depicted a protester harassing an Israeli journalist who was covering the event. Less visible were the ways that various antisemitic conspiracy theories, including QAnon, were among the forces that united and incited this mob to violent action at the Capitol.
As educators, we must ask what it means for people—young and old—to witness scenes of antisemitic hate, including the harrowing scene at the Capitol, in a moment when the number of people knowledgeable about the Holocaust is falling precipitously. In 2018, NPR reported that 41% of Americans and 66% of American millennials know nothing of Auschwitz, and 22% of millennials know nothing of the Holocaust at all. We must explore the complex reasons for these alarming levels of ignorance in our communities and commit to addressing them as educators.
We have no hope of challenging and transforming the antisemitic currents that now engulf our world if we lack a shared understanding of the past and present. For 40 years, Facing History has been a leader in Holocaust education, helping teachers to bring both the facts of the Holocaust and the moral choices of actors large and small to life for young people. It is in this ability to facilitate deliberate, heart-and-head examination of the choices that have made our history that our hope for the future must lie.
Despite this recent display of antisemitic hate, and a series of other attacks that have reached Jewish communities over the course of the last few years, we must also find the fortitude to move from mourning and reflection to action. At Facing History, we encourage educators to act by recommitting ourselves and our communities to the critical work of Holocaust education. Tell us how you are advancing this vital work in your own community in the comments.
--
Facing History invites educators to use our seminal case study, Holocaust and Human Behavior, and our accompanying teaching resources in the classroom.