What is our responsibility to refugees fleeing from war and genocide?
On September 3, the BBC's Inside Europe Blog published images of police officers in the Czech Republic writing on the hands of detained migrants as a way to identify them. In the post, reporter Rob Cameron observed that the images "are an uncomfortable reminder of a different event and a different era. But the Czech authorities appeared totally unaware of the unfortunate visual connotations with the Holocaust, when prisoners at Auschwitz were systematically tattooed with serial numbers."
The refugee crisis in Europe carries strong echoes for Facing History and Ourselves. Indeed, the stories of refugees in Europe today and the dilemmas this influx poses for individuals, groups, and nations mirrors histories we teach students in Facing History classrooms. Whether it's a lesson about the Holocaust and human behavior or the legacy of Apartheid in South Africa, present-day issues are intimately connected to the past. Yet for many, history is seen as something remote and removed from our daily lives. This pervasive ahistoricism so frequently causes us to make poor decisions that exceptions are notable.
Last week, in a report by New York Times reporter Anemona Hartocollis from Budapest's international railway station, where thousands of refugees were waiting to travel to other parts of Europe, a Hungarian woman providing clothing to mothers and young children reflected on her country's shameful response during World War II:
"We are going also from here to America, and Austria and other countries....I am Catholic," she said. "Islam, Jewish—I don't care. These are children, families. This is not normal. I am living here, and I am crying."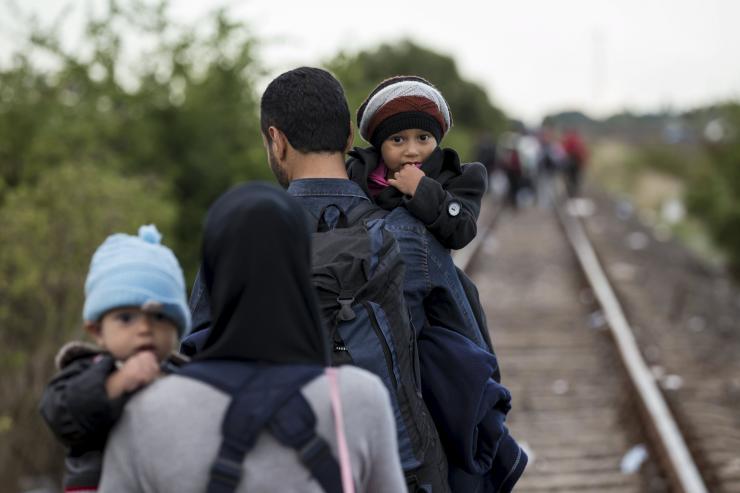 Reuters/Marko Djurica
The story changes daily. Last Friday, refugees moved across Hungry into Germany where some Germans met them with signs of welcome, offering food and water; but others warned that refugees threaten the character of the countries they enter.
History can haunt or inspire us as we wrestle with our own responsibilities. 76 years ago last May, the transatlantic ocean liner St. Louis left Hamburg, Germany, carrying 937 Jewish refugees escaping Nazi brutality and seeking refuge in Cuba. As the boat neared Cuba, president Federico Laredo Brú suddenly canceled the landing permits of the Jewish passengers. Desperate, the boat went up the U.S. coast, so close to shore that people could often see passenger's faces through the porthole windows. The refugees were denied entry here too. The world must not let this happen again.
A more hopeful story also connects us to today's headlines. In the Czech Republic in August 1939, Nicholas Winton, a British stockbroker, arranged for the transport of 669 children to the United Kingdom just one month before World War II was declared. (Winton, who was knighted for his work, passed away last July.) In all, the UK took in roughly 10,000 children as part of the Kindertransport from Germany, Czechoslovakia, and Poland. Last weekend, the UK stepped up again, announcing it would take in 20,000 Syrian refugees in the current crisis.
At Facing History, it is our job to raise difficult questions and prepare young people in classrooms around the world to take up the issues of the day. By teaching history—in the UK or Europe broadly, North America, Africa, Asia, and elsewhere—we aim to create a safe space and distance for young people to recognize their own power and agency. Many of our students—themselves refugees—feel able to tell their stories for the first time, while others gain new sensitivity from hearing their classmates describe their experiences.
Dilemmas of the past do not provide a road map for navigating crises today, but we have found that learning to connect events from the past to self, society, and the world around us equips young people to carefully consider the moral and ethical choices they face in their own lives.
In light of the refugee crisis in Europe today, here are questions we can consider in the classroom and around the dinner table:
How do nations express their "universe of obligation"—the circle of individuals and groups the government protects, for whose benefit laws are written and enforced, and in whose name justice is sought? And, should this circle change in times of crisis? If so, what are the consequences?
What are the various ways individuals, groups, and governments can respond to the crisis of refugees fleeing from war and genocide? What can we learn from the past to inform these decisions?
Who are the people who help integrate newcomers into your community? What do they do?