No Name Calling Week kicks off today, celebrating kindness while working to create safe schools free of name-calling, bullying, and bias.
Promoting tolerance, acceptance, and diversity in school is a year-round effort, but here are some resources that incorporate digital media that might be helpful if your classroom wants to participate in No Name Calling Week over the next few days.
BULLY: A Look at the Impact of Bullying and Tools to Build Safer Schools
The 2011 documentary BULLY follows teens and families from across the United States as they deal with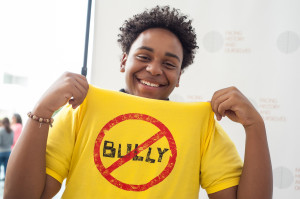 the realities of bullying, name calling, and physical and mental threats at school, on the bus, and in the playground. The film can be a powerful tool to use in discussions with educators and students about the importance of creating a safe school environment. Check out Facing History's guide to the film BULLY, which has teaching strategies to promote active learning and help students find their voices, make ethical choices, and transform communities. The BULLY Movie and Educator Toolkit on DVD is designed to help audiences confront the stories in the film, and the guide has been revised to support both the full-length documentary and a new, shorter version for younger audiences.
Bullying: A Case Study in Ostracism
How can young people and adults make better choices to help create and sustain schools that are safe for everyone? This question is explored in "Bullying: A Case Study in Ostracism," a multimedia resource that looks at issues of bullying and ostracism through a particular incident that occurred at a middle school, primarily involving a group of girls. What started as a small event turned into a serious situation. This resource contains written and audio testimony from students and staff involved with the incident, video resources, polls, and connection questions.
Not in Our School: Students Stand Up
Not In Our School is a national movement of teachers and students joining together to create safe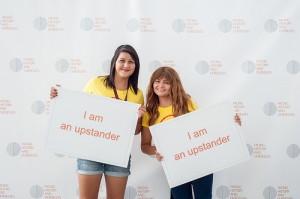 schools. In this series of videos, accompanied by lesson plans developed in partnership with Facing History, students across the country have created innovative ways to raise awareness about issues of bullying at their school.
Using Multimedia Student Reporting to Raise Awareness
You might remember this blog post about students at New York City's East Side High School who used multimedia reporting to look at their school's culture around teasing and bullying. Watch and/or listen as they look at what actually helps homophobic people change their minds to become more accepting. Here are some tips for "Reporting Your Own Story" to help educators and students think about how to use digital media to discuss issues taking place at schools and in communities.
Looking at Bullying in Literature
No Name-Calling Week was inspired by the popular young adult novel The Misfits by James Howe. The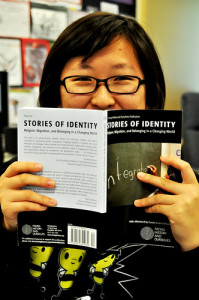 book tells the story of four best friends trying to survive the 7th grade in the face of all too frequent taunts based on their weight, height, intelligence, and sexual orientation/gender expression. The friends create a new political party during student council elections and run on a platform aimed at wiping out name-calling of all kinds. The No-Name Party wins the support of the school's principal for their cause and their idea for a "No Name-Calling Day" at school.
What books, short stories, memoirs, or articles do you use to talk about issues related to bullying?
Connection Questions:
As you and your students think about issues of safety, tolerance, and difference during No Name Calling Week and throughout the year, here are some questions you might consider:
What factors might help to create an ideal school for all students? How can you contribute to this ideal in your own school?
What does it mean for a school to be a safe space? What is the responsibility of students in maintaining a safe space?
How does your school work to promote inclusion?
What support and/or preparation do students need in order to become upstanders?
In the piece "Battling Homophobia at East Side High" above, one of the student reporters says, "I would want to help them, but it can be difficult," in response to a question about what would happen if she witnessed someone as the victim of homophobia and/or bullying. "It depends on the right kind of person at the right moment and someone who's ready to listen for change to happen." Do you agree with this statement? How would you respond to the original question?
Comment below – what is your school doing to foster a safe and tolerant environment?