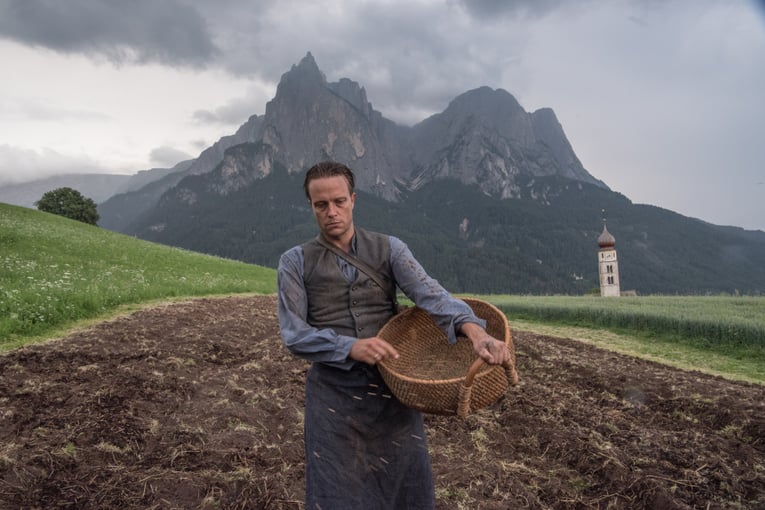 Auteur filmmaker Terrence Malick's latest work, A Hidden Life, is based on the true story of Austrian peasant farmer Franz Jägerstätter—a conscientious objector who refused to swear loyalty to Adolf Hitler when called to active duty during World War II. As Jägerstätter's refusal alienates him from his community and puts his life in jeopardy, the film offers an artful look at some of the moral choices made during this period, and an affecting meditation on what it means to have agency when we are subject to power structures greater than ourselves. And notably for educators, the film provokes a type of reflection central to best practices in adolescent education on WWII and the Holocaust.
When Jägerstätter refuses to swear an oath to Hitler, he is faced with extreme derision and even physical violence from community members who believe that his choice is arrogant, traitorous, and will doom Jägerstätter's wife and children to poverty following his inevitable execution. And characters repeatedly tell him that his refusal to enlist will help no one, and that the military campaign he rejects will simply continue nevertheless. Combined with the depth of grief Jägerstätter's wife shows at the prospect of his execution, viewers are forced to reckon with what inner conviction compels him to make such an ultimate sacrifice.
Yet, the film subtly suggests that the outcome of Jägerstätter's resistance was hardly inevitable because his contemporaries had agency, too. Malick's film illuminates that far from undifferentiated masses, governments and nations are made up of actual people making a series of choices every day, even as those choices appear to have been made for them. These choices include those of a bishop who reluctantly insists that Jägerstätter join Hitler, and those of state officials who insist on carrying out the orders given to them—even as they express defensive anxiety about their own choices upon meeting Jägerstätter.
The shame and hesitation evident in the other characters' words and body language reveal their agency, even as they work within hierarchical structures that might appear to sap all agency. In Hannah Arendt's coverage of the trial of Nazi official Adolf Eichmann, she wrote of "the banality of evil" to describe the way in which everyday people facilitate significant harm simply by doing their jobs, obeying orders, and obeying the law. "The trouble with Eichmann," Arendt wrote, "was precisely that so many were like him, and that the many were neither perverted nor sadistic, that they were, and still are, terribly and terrifyingly normal."
In addition to an array of spiritual questions, A Hidden Life asks the viewer to contemplate what it means to take a stand against violence in both its extraordinary and banal forms. What does it mean to stand up for something when it is not immediately clear what impact we can have and how we should do it? What level of sacrifice should we make in the service of our values and who should sacrifice? Can we really resist a given power structure "from the inside" and, if not, what other measures are we prepared to take? What would it mean to act in congruence with our stated values and what stops us?
In keeping with the rest of Malick's body of work, A Hidden Life is not an overtly political film, and does not outline specific political solutions. Yet the emotional complexity of the film requires that viewers engage in earnest reflection about what it truly means to act on one's values in the world.
Though not a question raised by the film, we might also consider the broader political implications of the kind of human weakness displayed in the film. Though Jägerstätter was not alone in defying the Nazis, his moral courage was certainly extraordinary. And it is this extraordinary act that led to his beatification by the Catholic Church in 2007—the first step to sainthood. And even as people within and beyond this tradition look to Jägerstätter's example, it seems probable that the average person may lack the courage to make equivalent sacrifices when faced with the same high stakes. This tension in human behavior is one of the many reasons why disrupting the rise of fascism is essential, even as we look to inspiring figures who have acted on their values uncompromisingly. As such, A Hidden Life offers not a roadmap but a moral provocation—imploring viewers to probe the depths of their own humanity and emerge with a clearer sense of their own values, limitations, and responsibilities within their own spheres of influence.
In our 43 years of leadership in adolescent education, Facing History has shown that having students examine the moral choices of individuals who lived in times of social upheaval is essential to engaging the young person in learning, as well as cultivating historical understanding, emotional intelligence, and one's sense of civic responsibility in the present. Not only does A Hidden Life offer a unique window into some of the moral choices available to people who lived during World War II and the Holocaust, but it also compels us to examine areas of our own lives where we may have more agency than we imagine. Facing History can help you spark this level of learning and reflection in your classroom.
Facing History and Ourselves invites educators of adolescents to use our seminal case study, Holocaust and Human Behavior, to help students examine the moral choices made during the Holocaust, the ethical questions raised by that history, and how these events can inform their own lives and identities as civic actors.


IMAGE: August Diehl in A HIDDEN LIFE. Photo by Reiner Bajo. © 2019 Twentieth Century Fox Film Corporation All Rights Reserved