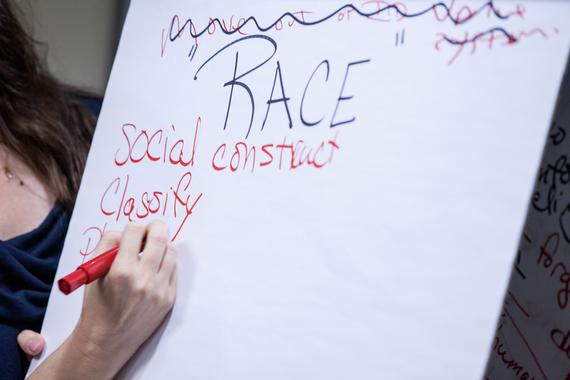 Talking about race can be challenging and uncomfortable. Yet, recognizing the impact of race on the way we see ourselves and others can help us better understand how we see the world and, in turn, the choices that we make. The challenge, for many of us, is that we don't know where to begin.
Last year, our friends at the New York Times and the New York Times Learning Network featured a series of short films to generate conversation about race and identity in the United States. The series focused on systemic racism as reflected in the relationship between blacks and whites, but the producers - Joe Brewster, Blair Foster, and Michele Stephenson - felt it didn't fully reflect the country's varied history and changing demographics. That's why they created two new films this year with the voices of Latinos and Asians: A Conversation with Latinos on Race and A Conversation with Asian Americans on Race.
These personal stories, experiences, and reflections offer a breadth of perspectives to help break the ice about how students can address these issues at such an important stage in their lives when they are forming their own identities.
And as they better understand their own identities, it's also important for them to understand we all carry implicit biases about difference. Many of us have been socialized not to talk about race or to pretend that we don't notice it, but ignoring these issues does not make racism go away. So let's get our students talking.
Here are some suggested guiding questions that you might consider to focus the discussion with your students:
What do the speakers in

A Conversation with Latinos on Race

suggest about the different forces that shape Latino identity?

According to the various speakers in the film, to what extent is Latino identity shaped by Latinos themselves and to what extent is it shaped by the way others see them?

What insights do the speakers share about the challenges and opportunities they face "fitting in" the dominant culture?

What similarities and differences do you notice between the perspectives of the people in the film? What do those similarities and differences reveal about Latino identities in the United States?

What do the various speakers in A

Conversation with Asian Americans on Race

reveal about Asian-American identities?

How have the various speakers in the film been impacted by prejudice and racism directed at themselves or others?

As you listen to the speakers, what similarities and differences do you notice in their experiences and their perspectives?
While both of these films are outstanding resources for discussion individually, they raise interesting questions when paired with other films in the series. Consider using a jigsaw teaching strategy in which students take on the role of experts about the content of each film.
We look forward to sharing more of the series as well as resources developed by the New York Times Learning Network to support teaching the films as they are developed.
How do you talk about race with your students? What strategies have worked well or not so well? What are the challenges and opportunities you've faced as a teacher talking about these issues? Share your story with us and keep the dialogue going.