To celebrate Teacher Appreciation Week, Judiana Moise, a senior at Blackstone Academy Charter School in Pawtucket, RI, shares her story of how her teacher, Stacy Joslin, has made an impact on her life. Stacy has been a Facing History and Ourselves teacher for nine years. She has taught Facing History lessons including Race and Membership, Identity, Choices in Little Rock, and Holocaust and Human Behavior. Stacy likes that Facing History gives her students the opportunity to wrestle with difficult and complex material. She says her favorite part of being a teacher is watching students find themselves through projects and discussions during the school year.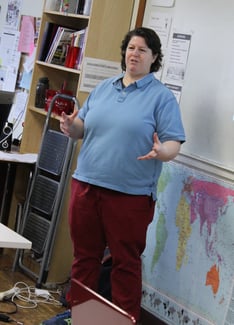 This fall, I'll be attending Brandeis University with a scholarship to study business or law with a minor in French. I wouldn't have known about the scholarship opportunity without the help of Stacy Joslin, my civics and history teacher. I never would have even applied because I never thought I'd get in. Thanks to her counseling and advice, I did.
Stacy was my teacher for two years at Blackstone Academy Charter School in Pawtucket, RI. First during my junior year for U.S. History and then for my senior year for Civics. She was like no other teacher I had before. She treated us like intelligent individuals with strong opinions that need to be heard. Stacy Joslin teaching at Blackstone Academy Charter School
From the Choices in Little Rock lesson she taught about the Little Rock Nine during the Civil Rights Movement, to getting involved in activities like "Mix It Up Day," where the whole school mixes together in different groups with different grades, personalities, and races, she always found ways to challenge us to be thoughtful and empathetic individuals. She taught us to embrace each other and our differences. Her class gave you the opportunity to express your views and opinions without judgment. We debated and we disagreed all while respecting each other's opinions. Most of all we are a family. Now, as a senior about to graduate, I realize Blackstone Academy is melting pot of every race, culture and personality and without Stacy it wouldn't be possible for us to bond as much as we did.
As I get ready to head to college, I plan on taking these lessons with me. Thanks to Stacy, I've learned that I am very understanding and open minded when it comes to important topics going on in the world such as racism, police brutality, stereotypes, and Islamophobia. Knowing we come from many different countries, cultures, and ways of living, I have learned not to be so quick to judge or I could miss out on meeting new people. It's a great way to start off the next chapter of my life.
Do you have a teacher who changed your life? When have you felt most appreciated as a teacher? Share your stories of appreciation with us during Teacher Appreciation Week!