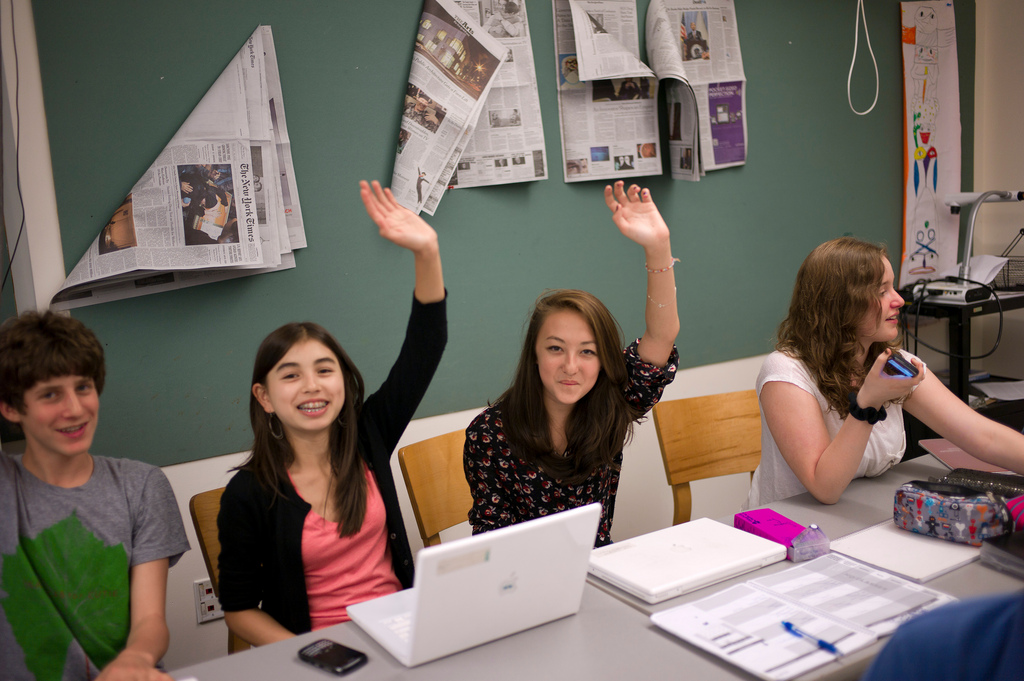 There has been a great deal written recently about the value of a using a "flipped" classroom approach to teaching. (For context, see this helpful article on the New York Times Opinionator blog.) While the method is still too new for us to know the long-term impact on students and on our teaching practice, we do know one thing: the "flipped classroom" approach creates opportunities for personalized learning, helps teachers use classroom time more efficiently, and allows us to incorporate technology into homework as well as classroom exercises.
First, a primer on "flipped classrooms." Put simply, the approach represents 1) a "flip" of the traditional model of instruction in class and 2) an application of that instruction as homework. In a "flipped classroom," students watch a video lecture or other lesson at home and come to class ready to discuss what they have learned, found challenging, or about which they have questions. "Flipping" a classroom does not replace reading, talking, or in-class work. Instead, the strategy is meant to help students learn at their own pace, in their home environment, and can allow educators to make better use of class time.
Educators teaching with this method use a range of videos, including home-made clips, resources from Khan Academy , and segments from world-renowned professors to tackle subjects ranging from the history of the civil rights movement, to the Universe of Obligation, to an algebra lesson. While the quality of video can vary almost as much as the content, the goal in using a flipped classroom teaching method is generally similar: leave the classroom as a place for discussion and engagement while the student takes time to absorb concepts, skills, or tasks on their own at home or wherever their homework takes them.
Are you interested in incorporating a flipped classroom teaching method in your classroom? Consider using this activity, which incorporates video clips, teaching strategies, and guiding questions from Facing History's new online guide The Rescuers, which explores stories of rescue during World War II. The guide is a complement to the documentary of the same name, which features diplomats who rescued Jews during the Holocaust.
***
Suggested Activity: Stories of Rescue During the Holocaust
1. In Class
Read a few key sentences from the introduction to The Rescuers online guide (see example below) in class to jump start student thinking. Example:
"The story presents the most fundamental moral question we face as human beings: Are we accountable for one another? Can we live together otherwise?"
Ask students to come up with a working definition of "rescue" that they will return to after watching and reading these narratives.
2. Homework
Assign one of the guide's five videos or ask students to choose one themselves.
Have students reflect on their video's guiding questions before and after watching.
Ask students to complete a 3,2,1 activity after watching their clip by answering these prompts in a journal or separate piece of paper:
What are three things you feel are important to the story?
What are two questions that come up for you as you watched the clip?
What is one connection you made to another story, activity, or lesson we have done in class so far this semester?
3. Regroup
The next time the class meets together, you might find the jigsaw teaching strategy helpful to prompt student discussion about the films in a small group setting. Break students up into groups of three to five, grouping students together who have watched the same clip. Have students discuss their clip and consider the following questions:
- Where is the line between duty and conscience? When do ethical considerations trump the diplomats' duty to carry out government policies?
- How do our religious, ethnic, and national identities shape the way we construct our universe of moral responsibility?
- What leads one person and not another to do the right thing, regardless of consequences they may face?
Students can then break up into "teaching groups" – groups of three to five students who have all seen different videos. Have students take turns presenting on their film and discussing some of their answers to the above questions.
4. Synthesis and Reflection
Come back together as a class. Reflect on the definition of "rescue" students created in the first class. Does it still ring true?
Learn more about the history of the flipped classroom here.
How might you "flip" your classroom? Have you already? Tell us about it – comment below!