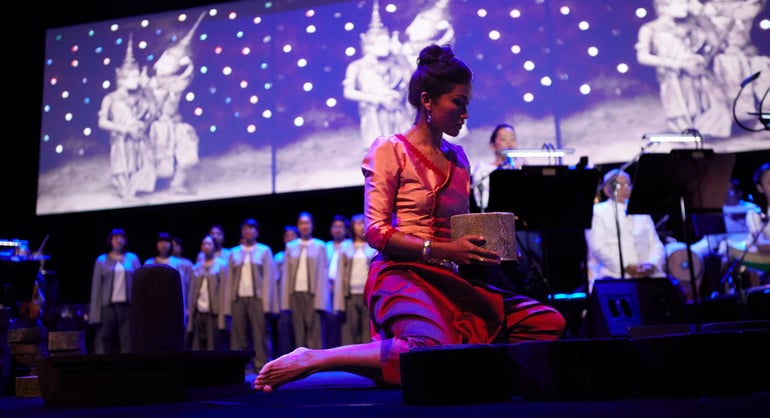 So many times in the last year I have turned to this excerpt of the poem, "What They Did Yesterday Afternoon," by Somali-British poet, Warsan Shire:
"later that night
I held an atlas in my lap
ran my fingers across the whole world
and whispered
where does it hurt?
it answered
everywhere
everywhere
everywhere."
This is a challenging time for our country and our world. There is no shortage of teachable moments as we try to make sense of the violent and unjust times today. Students study the complex and difficult moments in history to be able to address how societies heal and rebuild after extraordinary division and trauma.
This offers young people the ability to connect to the past but it also gives them the capacity for ethical and civic growth – with issues and choices in their own lives and the world today. This month, students from several Boston area schools are preparing to go even deeper into understanding how memory and the past can repair and heal.
Students from these schools will be exploring questions that challenge them to consider why remembering the past is important. How do individuals and communities choose to remember? What are the consequences of not remembering? These questions are part of a series of lessons intended to be used before students attend and reflect upon the performance of "Bangsokol: A Requiem for Cambodia," presented in partnership with the Allstate Foundation and Arts Emerson.
As part of these lessons, students connect to the traumas in Cambodia in the late 1970s to explore how a country and community can heal after genocide or violence. "Bangsokol" is a collaboration between Rithy Panh and Him Sophy, both survivors of the Khmer Rouge, that fuses music, film, voice, movement, and ritual. Its title draws from the Cambodian word that signifies a ritual where spirits of the dead find rest.
A performance like this makes us reflect on more than just the atrocities in Cambodia. It can bring us back to central themes of humanity—both in the past and the present, where we see societies around the world experiencing turmoil and violence in the wake of political upheavals. It can make us take stock of our own humanity to remember that victims of genocide are individuals, not merely mass numbers of an event that happened in the distant past. By remembering the victims—both survivors and those who perished—we can restore humanity.
Facing History's partnership to present "Bangsokol" to students is one of many ways we try to teach students about genocide and the repair and healing that is needed. Our seminal case study, Holocaust and Human Behavior, was our first foray into this heavy task. Most history lessons didn't look beyond the numbers, dates, and facts. Yet, connecting to the human experience is what humanity depends on. Now, over 40 years later, we've evolved our lessons to include a diverse range of important moments in history. A performance like "Bangsokol" provides the opportunity for healing, reconciliation, and repair that can happen through restoring culture, art, and story to the survivors of that violence.
Studying genocide—whether it's the Holocaust, the Armenian Genocide, or the Cambodian Genocide—is never easy. But it is necessary because today's political turmoil, divisive rhetoric, and international crises are a stark reminder that we are just as vulnerable as those that came before us.
Marjorie Agosin, poet and human rights activist, reminds us of this in her poem "A Woman Dreams Between the Thresholds":
"And what was history? A game of chance.
A game of one type of cruelty over another?
Or perhaps the possibility of empathy?
Of finding beauty amid hopelessness.
The honor to call them by their names
The forgotten ones
The disappeared
The mutilated
The ones erased by history."
In this time, when many cultures celebrate the coming of light in its many forms, let us take a moment to honor that light by honoring and remembering and giving voice to the "ones erased by history."
Explore the role of monuments in society with our visual essay, "Holocaust Memorials and Monuments." You can use this collection of images to spark conversation about how people keep history alive in their communities while considering the complex questions memorials raise about how we choose to remember history.
Photo Caption and Credit: An image from a performance of "Bangsokol:A Requiem for Cambodia." Photo by Zan Wimberly.