From apps that help your students read to apps that help you organize your teaching day, these five educational apps from Facing History Senior Program Associate Pam Donaldson will help you engage students and inspire your own teaching practice. Read on and let us know, what's your favorite app to use in the classroom?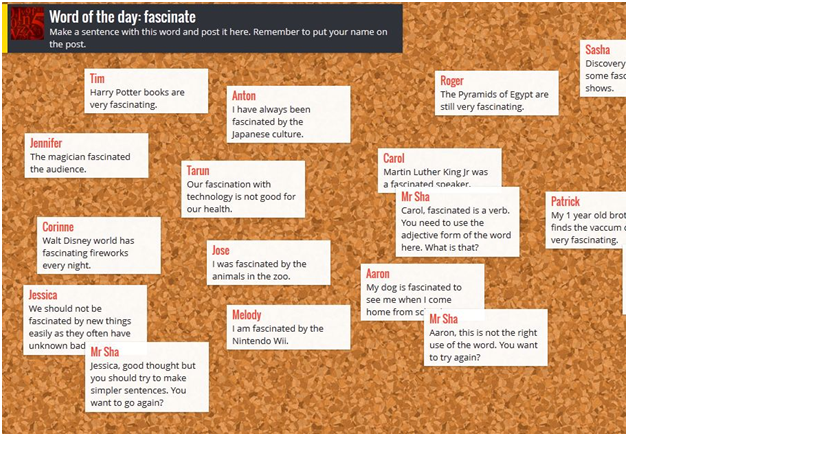 What It Is:
Padlet (formerly called Wallwisher) works like an online sheet of paper or white board. Upload content (e.g. images, videos, documents, text) or type anywhere on the page. A cool bonus: multiple users can collaborate and access the same "sheet" at once, from any device.
Why It's Cool:
At Facing History, we use the Big Paper teaching strategy a lot to build silent conversation and engage students in classroom dialogue, including those who are not as likely to participate in verbal discussions. Padlet is the online equivalent of this activity. Free and easy to use, students can post their thoughts about a question, reading, or topic in real-time, and can upload pictures, links, and external sources. The app is great for educators, too. One Facing History program associate in Boston, Denny Conklin, recently uploaded resources to Padlet from a workshop he led for teachers and administrators, then used it to share the resources with attendees and colleagues.

The author leading a Present.me presentation
What It Is:
Use Present.me to create presentations that engage students. Similar to PowerPoint in that you can upload slides, Present.me is great for the classroom because the facilitator or presenter can also record audio or use video to interact both with the presentation and the audience.
Why It's Cool:
With Present.me, educators can be virtually present during a presentation using audio only or visual and audio. It's interactive and students or audiences can live chat with discussion leaders during the presentation. You might record a lesson and assign it as homework for students to watch after school. Or you might put students in the presenter role, leaving it to them to create a presentation and interact with their peers, an assignment that builds media, reading, writing, and critical analysis skills.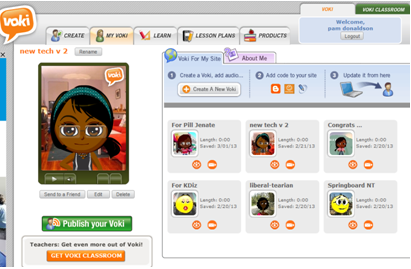 What It Is:
Voki is a free educational tool that allows users to create their very own talking character. Voki characters can be customized to look like historical figures, cartoons, animals, or even the person creating the animation!
Why It's Cool:
Not only is the Voki app fun to use, it allows educators and students to practice finding and using their own voice, as well as understanding the voice and perspective of others from history or today. I used this with students for an activity on memorials at the Facing History New Tech High School in Cleveland, Ohio. Using avatars and prior knowledge of memorials, we discussed the purpose of memory and the challenges of historical memory as part of their unit on the Holocaust. The app helped engage students in a discussion of memory, legacy, and historical omission.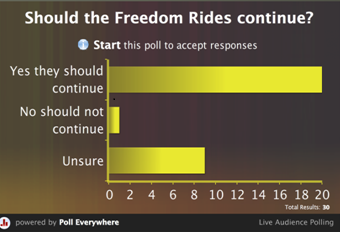 What It Is:
Poll Everywhere lets a user embed a poll on a screen during a presentation or directly on a web page. Students or audiences can vote, comment, or ask questions in real time by sending in text messages or a tweet from a mobile device or a desktop computer. It is a great way to interact in a classroom or school assembly.
Why It's Cool:
Poll Everywhere is a great way to take the pulse of student views on a topic, reading, quote, etc. Ask an open-ended question or create a poll on a specific topic. At our Facing History Cleveland Student Leadership retreat in 2012, we asked students to vote on whether they believed the Freedom Rides of 1961 should have been stopped due to the public outrage and hatred the riders experienced, or if they should have continued as an act of non-violent protest. Students texted their answers in, and then we discussed why people voted the way they did. It was a rich conversation.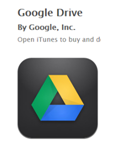 What It Is:
Google Drive is like a file cabinet that follows you wherever you go. You can upload photos, videos, documents, or other files, and access them on your mobile device or personal computer.
Why It's Cool:
Google Drive is a practical application that I use daily to plan and share documents with my colleagues and educators. Google Drive saves instantly, which means power outages, coffee spills, and the dreaded closing out a document before you hit "control-s" aren't a problem. Students can use Google Drive for collaborative projects or to share presentations and documents. Invite your fellow teachers and administrators to access information from your class. It is a staple application in my day-to-day work.