Tuesday, November 29 is Giving Tuesday. As the holiday season gears up with advertisements for sales and deals on clothes, electronics, and games, Giving Tuesday encourages us to support organizations trying to make a positive difference in the world—like Facing History and Ourselves. Hear from Kim Parker, a Facing History teacher, about why she's giving to the organization that has helped her grow as an educator.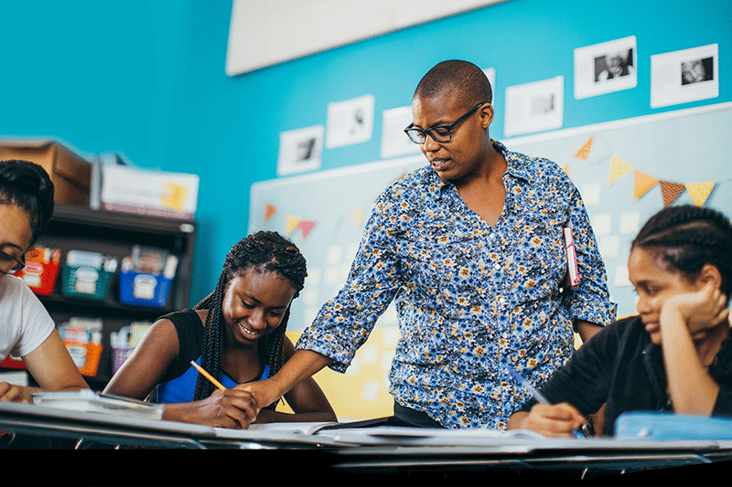 Kim Parker, English Language Arts teacher, with her students
I could list all the ways Facing History and Ourselves has made me a better teacher but I don't think there's enough space here for that. What I can tell you with certainty is that Facing History has made me a better teacher and I know I'm giving my students the chance to change the world for the better. Thousands of teachers like me use Facing History's resources and curriculum to connect everyday with our students—and that's why I'm making a gift to them this Giving Tuesday.
We all hold the responsibility for helping young people make sense of the world around them. For teachers, that job became much, much harder after the US presidential election. I turn to Facing History to help me find the tools, the resources, and the teaching strategies I need to help my students have mature, civil discussions about difficult topics. Today's tensions and divisiveness have never made this more relevant, which is why I'm so thankful for the resources they offer to talk about the US presidential election.
Facing History and Ourselves has given me the skills and tools I need to confidently guide my students to understand that the choices they make each day are the choices that will create the future.
Facing History needs our support. Teachers like me—and our students—need Facing History. Let's join together this Giving Tuesday and make a statement about the future.