Today's News, Tomorrow's History is an ongoing series with Listenwise. This series connects Facing History's themes with today's current events using public radio to guide and facilitate discussions around the social issues of our time. We will take a look at the construction of oil pipelines that are moving forward and the political, environmental, and economic factors involved.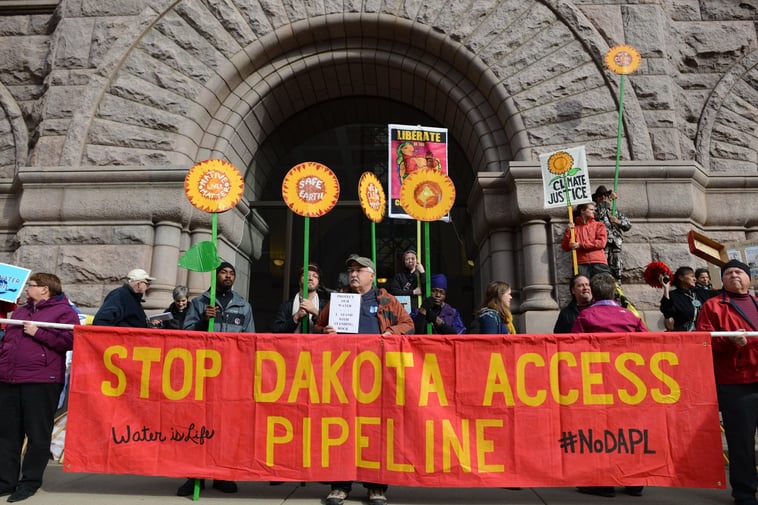 Image licensed under CC BY 2.0
Environmentalists are taking a strong stance against President Trump's executive order to revive two controversial oil pipelines—Keystone XL and Dakota Access. The Dakota Access pipeline runs from North Dakota through central Illinois and is planning to transport 470,000 barrels of oil per day. A section of the pipeline will run near the Standing Rock Sioux Reservation and there are serious concerns about how this would affect their land and water. Protesters have been at the Standing Rock camp in North Dakota since August 2016 and include indigenous communities, farmers, and environmental activists.
The Keystone XL Pipeline was proposed in 2008 to transport crude oil from Alberta Canada to Nebraska. There were environmental concerns including oil spills and higher greenhouse gas emissions, as well as proponents who said the pipeline would bring economic strength and energy security by transporting oil more safely and efficiently to the United States. Construction has been delayed due to environmental review, congressional action, and a veto by then-President Barack Obama.
In addition to approving the construction of these pipelines, President Trump has also signed an executive order to expedite environmental reviews of these infrastructure projects.
Listen to this story to learn more about the controversy over Trump's plans to speed pipeline construction and the groups working to block these projects.
Join the conversation: What are the arguments for and against going forward with construction of the Keystone XL and Dakota Access pipelines? Why do you think Trump believes environmental reviews of oil pipeline projects are "horrible and cumbersome"? What do you think is the purpose of an environmental review? Do you think it's necessary for oil pipelines?
Keep the conversation going with Facing History's resources:
Explore how Sargent Shriver used public policy to fight poverty in the 1960s with our lesson, "

Participation through Public Policy

." This lesson can help students consider how working with the government to shape and manage public policy can influence communities.

Help students think about the concrete ways they can "choose to participate" in their neighborhoods, nation, and the world with our lesson, "

Strategies for Making a Difference

," from our newly revised edition of our resource,

Holocaust and Human Behavior.

Use our lesson, "

How Do Rules & Traditions Shape Communities?

" to help students develop an understanding of the relationship among laws, customs, and community cohesion.
Explore more stories about oil and pipelines in the United States from Listenwise:
Listenwise helps teachers use public radio stories in their classrooms. To find more public radio stories and lessons for your middle and high school ELA, social studies, and science classrooms you can sign up for a free Listenwise account!