Today's News, Tomorrow's History is an ongoing series with Listenwise. This series connects Facing History's themes with today's current events using public radio to guide and facilitate discussions around the social issues of our time. We will take a look at the violence in Burma, or Myanmar, that has made the Rohingya leave their country.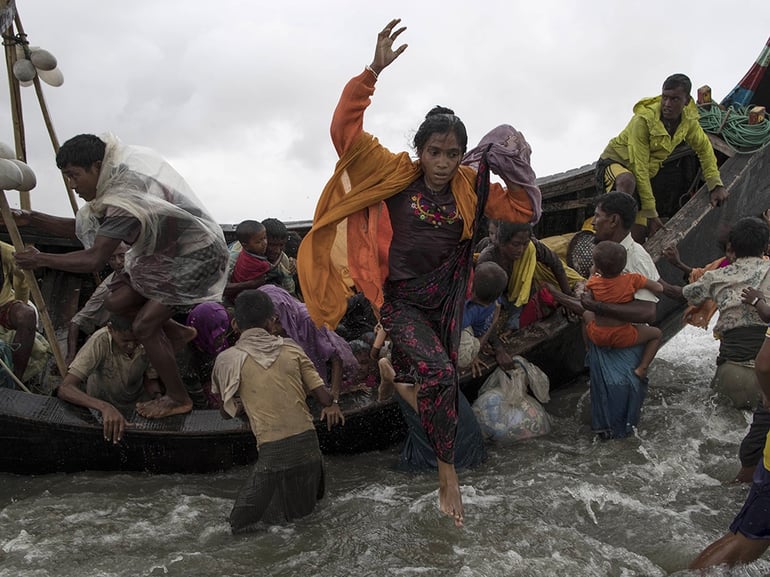 Image licensed under CC BY 2.0
Since the end of August 2017, more than 600,000 Rohingya have fled from their homes in Myanmar, also known as Burma, into Bangladesh to escape the violence from the Burmese military. The attacks on villages and campaign of violence have been called "ethnic cleansing."
The Rohingya are a Muslim minority in a majority Buddhist country. Buddhist nationalists have protested the Rohingya's right to vote and there are no Muslim representatives in parliament. The Myanmar government has refused to acknowledge Rohingya as a distinct ethnic group and they have been persecuted, alienated, and subjected to institutional discrimination.
The Burmese government's stance is that their actions are in response to the attacks by an armed group of Rohingya against the Burmese police. Aung San Suu Kyi, Myanmar's leader, has denied that the government is conducting ethnic cleansing and has said they are defending the rights of the Rohingya. Listen to hear about this crisis and what the Burmese government and United States government are doing to help the Rohingya.
Join the conversation:
Who are the Rohingya and why are they being persecuted? How can a culture of prejudice encourage violence? How has America responded to this crisis? In your opinion, why do you think some people are persecuted? What groups face discrimination or persecution in the United States?
Keep the conversation going with Facing History's resources:
Explore our lesson,

"Responding to the Rohingya Crisis,"

to help students put this crisis in historical context, while contemplating the international community's obligation to respond.

Use our lesson,

"Understanding the Conditions that Lead to Ethnic Cleansing,"

to introduce students to key concepts such as a nation and self-determination and explain the relationship of these ideas to the conditions that make ethnic cleansing possible.

Use our reading,

"Cultural Genocide,"

to consider how the efforts of the Canadian government to assimilate the Indigenous Peoples through residential schools and other related policies are viewed as an intention to destroy the Indigenous Peoples of Canada as a culturally distinct group.
Explore more stories about religious persecution from Listenwise:
Listenwise helps teachers use public radio stories in their classrooms. To find more public radio stories and lessons for your middle and high school ELA, social studies, and science classrooms you can sign up for a free Listenwise account!