Today's News, Tomorrow's History is an ongoing series with Listenwise. This series connects Facing History's themes with today's current events using public radio to guide and facilitate discussions around the social issues of our time. Today we will take a look at the current responses to transgender guidelines for schools in the United States.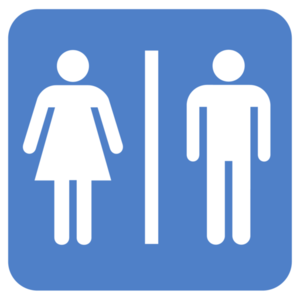 Discussions surrounding the rights of transgender individuals have become front and center in the United States. Television shows are featuring trans characters, and celebrities are bringing gender identity to mainstream audiences. At the center of the debate is the use of bathrooms in schools.Traditionally, schools have bathrooms for girls and bathrooms for boys but growing sensitivity to transgender students is changing the way some schools think about who should be allowed to use each restroom.
The National Center for Transgender Equity estimates that a quarter to one percent of the population is transgender. Seventeen states and the District of Columbia have laws protecting the rights of transgender people. Recently, the White House, along with the departments of Justice and Education, say schools must let transgender students use the bathroom of the gender they identify with.
Conservative leaders responded by denouncing this directive as divisive, unsafe, and immoral. Texas and 13 other states sued the Obama administration and most recently, a federal judge in Texas has blocked the the enforcement of new guidelines. Others call these guidelines a big step for civil rights and applaud the anti-discrimination policy. In Texas, the Fort Worth school superintendent announced their public schools would accommodate transgender students. That led to Texas Lieutenant Governor Dan Patrick calling for the superintendent's removal. Listen to hear more about how politics and public school bathrooms are related.
Join the conversation: What is the responsibility of schools to transgender students? What can educators do to ensure that schools are safe spaces for all students?
Keep the conversation going with Facing History's resources:
Explore more stories about gender and politics from Listenwise:
This story

discusses global goals for gender equity.

Learn more about sexism in

this story

about how storms are named.

Use this story as a topic for debate. Read the Listenwise

blog post

to get started having debates in your classroom.

Listenwise helps teachers use public radio stories in their classrooms. To find more public radio stories and lessons for your middle and high school ELA, social studies, and science classrooms you can sign up for a free Listenwise account!