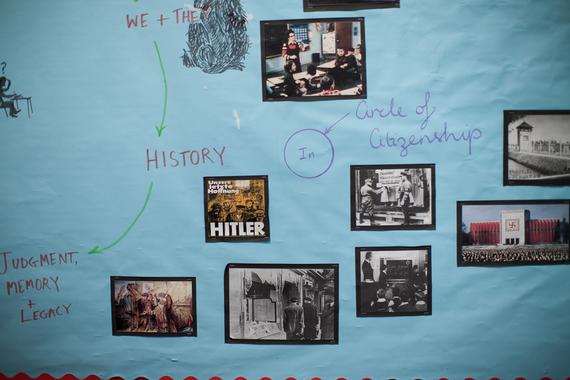 We've all had that student who takes one look at an assignment and shuts down. They sit and stare. They develop a sudden and pressing need to go to the bathroom. They start to talk and distract others. They oh-so-sneakily check their phones. They employ any method of avoidance they can conjure to serve as a defense mechanism against failure. If students lack the confidence and sense of self-efficacy needed to be successful, they will choose to do nothing rather than try and fail yet again.
Our job as educators is to give them the tools they need in order to be successful. Once a kid shuts down, it can feel nearly impossible to re-engage them. There is a sense of losing that student forever, an urgency to re-engage them before it is too late. As more than a million students drop out of high school every year, our students need us now more than ever.
So how do we bring struggling students back to learning? We need to teach to their level. This means a commitment to getting to know our students as well as possible: academically, cognitively, culturally, and emotionally.
Doing this is difficult and feels like an uphill battle when you're facing a classroom of 30 to 40 young students. That horrifying feeling crept up on me while I was a graduate student. One assignment asked me to take an existing lesson plan and modify it into three distinct lesson plans for moderate, struggling, and advanced students. The idea of creating and engaging accessible lessons is nothing new. But there had to be a better way that met each student at their individual level.
So I challenged myself.
Instead of creating custom lessons and support tools for each student, I began to embed tailored learning approaches into the assignments for the benefit of all my students. I created thematic inquiry centers where they traveled from station to station gathering information, building connections, and engaging in deep conversations about rescue and resistance in the Holocaust. With such a complex and diverse topic, I wanted students to be able to see a series of voices and perspectives in a relatively short amount of time. Using excerpts from the revised version of Holocaust and Human Behavior, as well as images and stories from the Jewish Partisan Educational Foundation, students engaged meaningfully with the many facets of resistance.
Inquiry is not only a demand of Common Core but also a great motivator for a struggling or disengaged student. By placing conversational sentence starters at each station, my previously quiet students suddenly entered the conversation. Stimulating academic conversation can be tricky sometimes with my 10th graders but these supports gave students the starting point they needed. While one student participated in group discussion for the first time ever, another, who had yet to finish a class assignment, completed every station with 10 minutes to spare. It was a transformative moment for me to see a previously disengaged student not only complete his work but engage in thoughtful conversation with his classmates. Witnessing these two students transform, I knew that my teaching would never be the same.
By weaving in elements that resonated with different students, I was able to reach them where they were in the learning process. They felt encouraged, they felt empowered, and they felt successful. And that's where it matters most: Students need to see that success isn't just for other students. It's for every student, including them.
Explore our newly revised resource, Holocaust and Human Behavior, to engage your students in making essential connections between history and themselves through the study of the Holocaust.