It was the personal stories from difficult moments in history that captured Skyler Edge's attention in his 10th grade Facing History and Ourselves class at Facing History New Tech high school in Cleveland.
"We weren't just learning dates and facts, we were tying in other things to it and trying to see the human side," Skyler, 16, says.
"Not only did I get inspired by some of the people we learned about, but also by seeing how my classmates reacted to those stories. I saw them react positively to many different groups of people. Seeing that helped me."
At the time, no one at school knew Skyler as Skyler. They knew him as Aryana, and as a girl.
Skyler came to Facing History New Tech as a freshman in 2012, the year that the school opened. The following year, he took a yearlong Facing History class required for all sophomores that explores issues of identity, civic participation, and membership in communities today and throughout history by looking at difficult moments in the past, including the Holocaust and the American civil rights movement. The subject matter spoke to Skyler from the start, in part because he was doing a lot of thinking about his own identity and how he fit into his own school and home community.
At the beginning of the school year, Skyler's Facing History teacher, Martha Verde, led a discussion about creating a safe and supportive classroom where everyone was free to express his or her ideas. The class would be having difficult conversations, she told them, conversations that might get emotional, and it was important to create guidelines and expectations for listening and responding to the opinions of others. That meant no put-downs. It meant being respectful. And, in the words of Ms. Verde, it meant "thinking with your head and your heart when speaking."
"Everyone really followed [the rules]," Skyler says. "That helped me to feel safe, and that had an impact on why I chose to do it."
For Skyler, the "it" was sharing his own story – telling his classmates and teachers that he is transgender and asking them to call Aryana, the girl they'd known for over a year, Skyler.
"I wanted to help others understand more about what being transgender means and I also wanted to get my own feelings out," Skyler says. "I wanted to provide a gateway for other people who might not feel safe enough to talk about this stuff and educate people on issues that I'm very passionate about, that have to do with my identity, but which many other people don't know much about."
Skyler talked with his school counselor, Dr. Maria Balotta, who suggested that he do some research into the experience of being transgender is like for different people around the world, both for himself, and to help teach his peers understand about what it means to be transgender. He found definitions of the word and researched the challenges that transgender people face in society. He pulled together statistics about the bullying and violence against transgender people and found clips of slam poets talking out about issues of transgender. He found support from Ms. Verde and Dr. Balotta, who met with him regularly outside of class and served as a practice audience so that he could prepare to speak publicly to his classmates.
He called his presentation "The Boy That Wasn't," a play on the title of a book his Facing History class read at the beginning of the year called The Bear That Wasn't. The book is about a big brown bear that struggles to maintain his identity after finding himself in unfamiliar surroundings.
"I compared myself to the bear. The bear goes through the story and people try to tell him that he's not a bear, but in the end, that's what he is. He's just a bear," Skyler says, explaining that throughout his life, teachers would ask students to line up according to gender and when he went to stand with the boys, he was always told to go back with the girls.
On the day of the presentation – when Skyler would talk for 15 minutes to each of the school's four Facing History classes – he was nervous. "I was scared," he admits. "I had heard horror stories of transgender people who are attacked. I think I was scared that people might get violent."
What happened next surprised him.
"I went into what I had researched and tried my best to explain to people. I talked about how people can be more accepting not only of me, but also of people everywhere who are transgender. I had a poem that I played and afterward, people got to ask questions. When I asked for questions, it got pretty quiet," he says. "But one by one, my classmates started standing up. They said 'Thank you.' They gave me words of encouragement and said, 'That was really brave of you.' It just made me really happy."
Following the presentation, Ms. Verde handed out Post-it notes and asked students to write questions or comments that they might not have voiced in class.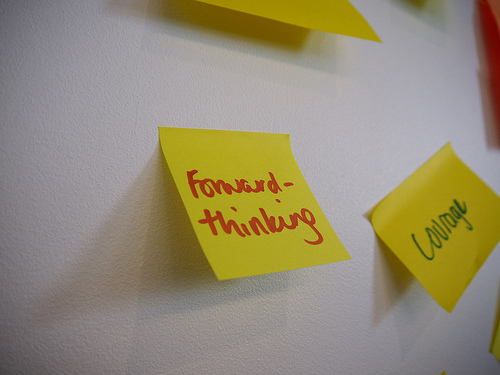 "I am very proud of you," one student wrote. "Thank you for being the voice of those who don't have one."
"I'm so glad that you had the courage to do that," another said. "It makes me feel like I should do something to help everyone understand me better."
And that's Skyler's goal.
"Everyone's story is important. Everyone has more inside them than what you can see at face value. And there's nothing better than learning about other peoples' experiences. Everyone has something that they can share and educate [others] about," he says. "If everyone could just share their story, I think that we would live in a much better place. Sharing your story is one of the most valuable things you can do in your life because that's what life is – it's building up your life and then telling people about it."
At the end of the year, Skyler was surprised – and honored – to receive the school's Student Upstander Award at the annual awards ceremony. "I was floored," Skyler says. The award, which is given alongside awards for academics and athletics, recognizes one student who has made a difference to others – someone who, in the words of Dr. Balotta, "dares to care."
"Our kids are more informed," Dr. Balotta says of life at the school following Skylar's presentation. "They have more empathy."
When reflecting on the year, Skyler says his Facing History classmates and teacher gave him a lot of the courage he needed to stand up and say something.
"Without this class, I'm not sure that I would have done it because I knew that people weren't used to dealing with big issues like this," he says. "But I feel like there are a lot of things that my classmates have come to understand this year and feel open about. And I saw people act so maturely in class when we learned about peoples' stories from the past that it helped me to realize that they might take my story maturely, too."
"In a Facing History class, we discuss things and help students develop their own voice to express their thoughts," says Ms. Verde, who sat down with Skyler after the presentations were over. "He said to me, 'Before this class, I never said anything to anyone. I was quiet and shy. I have a voice now.'"
Update: Director Joshua Butler (The Following, Vampire Diaries, State of Affairs) has selected Skyler's original short story House, Not Home to turn into a short film as part of a collaboration with Scenarios USA. Skyler said he drew inspiration from his own fears of coming out to his classmates. "I've been through all of it, but know a lot of others who are still hiding," Skyler said in a press release this fall. "I wanted to help them know that they are not alone." The film, which premieres in April 2015, will be seen by an estimated audience of 20 million.
Has hearing someone else's story made a difference in your life? Tell us about it - comment below!