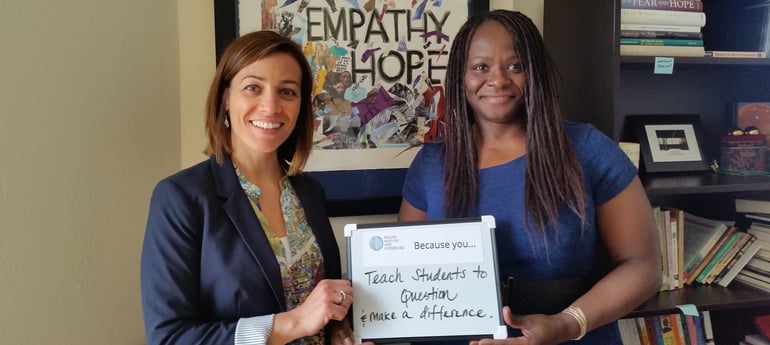 For the past three weeks, we've been exploring the question "What Makes Democracy Work?" with scholars, activists, and thought leaders whose insights and stories teach us about what it takes to sustain democracy. Each Thursday we post new podcasts, essays, and related classroom resources, which can all be found on our "What Makes Democracy Work?" webpage. This week, in honor of Teacher Appreciation Day, we're saying thank you to the teachers who nurture democracy in their classrooms every day.
In 1916, American philosopher and education reformer John Dewey insisted that "Democracy has to be born anew in every generation, and education is its midwife." This essential connection between schools and society has animated Facing History's work for 40 years. Our program staff visit hundreds of schools and work with thousands of teachers each year, so we see firsthand how teachers do the critical work that builds citizenship and fosters democracy in ways large and small.
We see you, teachers—when you rearrange your classroom to promote conversation; when you find engaging ways to teach students how government works; when you craft lessons about history and literature that help students see our world more clearly; and when you mediate hard conversations on emotional issues that even adults have trouble discussing. We see you, and we thank you.
To mark Teacher Appreciation Week, we asked our staff for their thoughts about how teachers make democracy work. Please watch this short video, pass it along to your friends, and share your own ideas about how teachers make democracy work with the hashtag #DemocracyAndUs.
Below, we focus on a few of the ideas Facing History's staff shared in the video and offer related lessons, videos, teaching strategies, and other resources to help you continue to make democracy work in your own classroom.
Want to share the appreciation? Make sure to share the video on Facebook and tag a teacher you know!
Photo Caption: Facing History staff members share why they think teachers make democracy work.