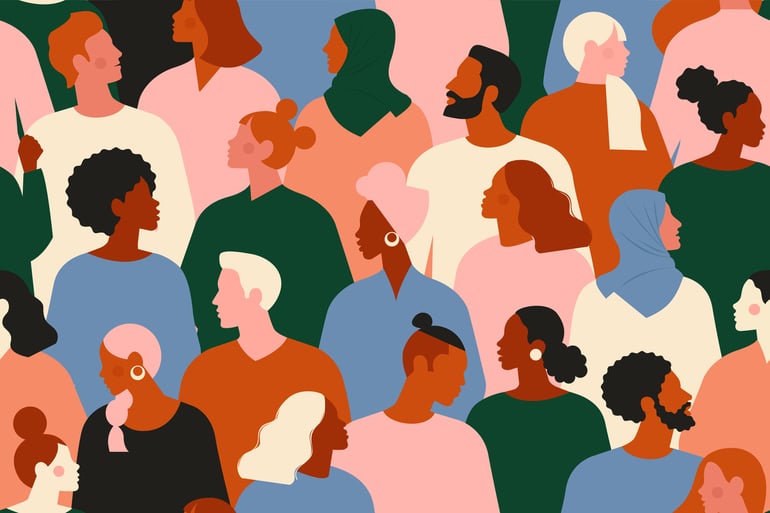 This July and August, Facing History hosted our first ever Teaching for Equity and Justice Summits for over 450 educators from across North America. Throughout the summit, educators committed their time and energy in order to engage in deep learning, reflect on their own mindsets and practices, and to hear from scholars like Dr. Bettina Love, Dr. Pedro Noguera, Dr. Scott Seider and Dr. Daren Graves and our Chief Equity and Inclusion Officer, Steve Becton.
What does Facing History mean by "teaching for equity and justice"? Facing History believes that in an equitable and just classroom, each student receives what they need to develop their full academic, social, and civic potential. This is achieved by disrupting deficit narratives associated with students' racial and/or cultural identities. In equity-focused learning environments, adults explore unconscious bias and work to mitigate the impact of historical racism on educational practices and policies. Facing History's approach to Teaching for Equity and Justice began with educators connecting to their sense of purpose in their roles as educators, and challenged them to make explicit connections to their "why" through the lens of equity and justice. This work takes life-long commitment and practice.
This professional development experience raised important questions such as:
How can educators bring a

critical consciousness lens

to their classrooms, curriculum, and interactions with students?


What role does the

history of eugenics ideology

play in many of our current day school policies and practices?


How can educators reject a deficit mindset about students' achievement and behavior and instead work to create classrooms that are loving, joyful, and center students' humanity?


As one of the lead organizers of this summit, it was new territory for us to know if our in-person training model would translate to an online format that leads to the type of deep reflection, community building, and sense of empowerment that are foundational elements of our professional development experience. It is evident from many educators' thoughtful feedback that this online model was able to do just that. Their feedback includes the following statements:
"I think this seminar has turned a flame into a fire. I feel very motivated to challenge the structures and systems that have been created to perpetuate a white supremacist society. Additionally, I will continue to advocate for my students and teach them the skills that they need to advocate for themselves."
"My mind is so opened because of the Equity Summit. I feel that the lessons I learned through the content, webinars, and conversations with my peers helped me to expand my learning to new levels and to visualize specific actions and processes I can put into place to make teaching and learning more equitable at my school and in my school community."
"I am simultaneously overwhelmed and newly focused, if that makes any sense. I have a LOT of new things to read, to think about, to research, to try in my classroom and in my school... At the same time, through our work I have a handful of concrete actions that I plan to take in the next few days/weeks to help move myself, my classroom and school forward."
As educators return to their schools in uncertain times, we hope that all educators renew their commitment to teaching for equity and justice. We hope that their classrooms will be spaces where all students, especially young people who have experienced historical marginalization by white supremacy structures, policies and practices, can feel seen, valued, and engage in authentic and meaningful learning.
Facing History and Ourselves is here for educators who want to center equity and students' social and emotional needs in their classrooms. We invite you to use our wide array of Teaching Ideas in the classroom, including our Back to School 2020 Resources to help nurture an inclusive and equitable learning community.