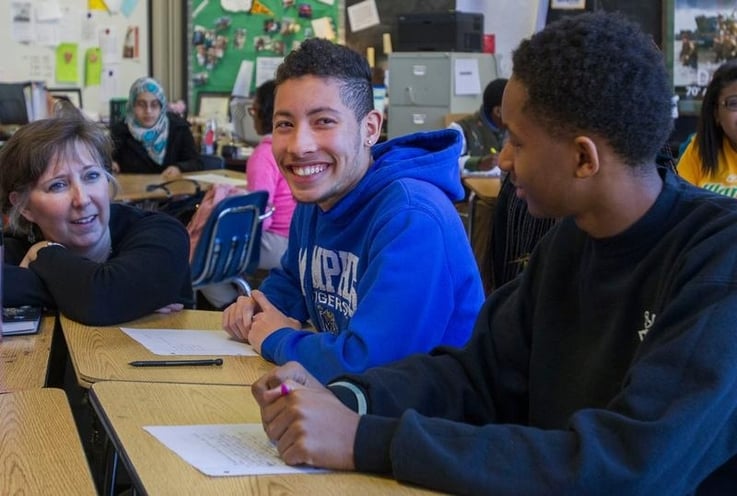 Classrooms are meant to be safe spaces for students to learn new lessons, share their thoughts, and understand the world around them. This can be challenging for new students - particularly those from different countries - but it's essential to students' academic and personal growth to feel included and valued. Creating a welcoming environment can take a little extra work, but it's possible and there are small, easy ways to do it. Elaine Cawley Weintraub, the History Department Chair at Martha's Vineyard Regional High School, and Katya Babitskaya, an English Language Learner teacher at Brookline High School (both in Massachusetts) have first-hand experience doing this in their classrooms. The two facilitated a Facing History forum, "My Part of the Story - Rethinking Immigration, Identity" last May. This forum explored the many facets of what it means to be a welcoming community and how newcomers enrich our own definitions of community.
Here are their four top tips to help make students feel welcome:
Learn About their Languages and Cultures: From a practical stance, this helps educators understand their students' strengths and weaknesses when it comes to writing, but it also deepens the relationship to the student. "Learning about students' cultural patterns of behavior can help you understand why students interact with adults in a certain way and what style of interaction they successfully respond to," said Babitskaya. It helps them open up and feel valued and they can strengthen their relationships with their peers around them. Doing things together also helps express interest to students and honors their abilities and skills. Cawley Weintraub asked her Brazilian students to teach her how to make coffee in the traditional Brazilian way using a cloth coador. "They enjoyed being the ones who knew what to do," she said. "They were the teachers."
Create Access at All Levels: Students should have multiples ways to access materials at any level of English language proficiency. Allow newcomers to work with same-language partners on difficult projects or provide them with bilingual glossaries that feature commonly used mathematical or scientific concepts in both languages. Have students write down difficult concepts in their own language before they translate it into English. Use visuals to illustrate specific concepts and encourage students to use new vocabulary in all the language domains.
Use Nonverbal Activities: Speaking English in a group setting can sometimes be uncomfortable for newcomers so break the ice with some nonverbal activities. Cawley Weintraub took photographs of her students, displaying them on bulletin boards inside and outside of the classroom. "They enjoyed seeing their pictures displayed with pride," she said. "One of them observed the room felt welcoming because her photograph was there. She said, 'I felt a part of it.'" Cawley Weintraub also incorporated play by teaching them a game they did not know: Irish hurling. "It literally created a level playing field," she said. "They learned something new together using visual and kinesthetic approaches."
Go Beyond the Classroom: Creating a welcoming environment in the school as a whole is just as important as creating one in the classroom. Babitskaya suggests organizing an open house for new students and families before the start of the school year. Invite newly registered families to visit the school and meet ELL teachers, guidance counselors, and a principal. It can include a short presentation about the school and the services provided to students; introductions to important people; schedules; important dates, rules and procedures; and a school tour. This will make students - and parents - feel at ease as they start at a new school, while giving families an opportunity to interact and make connections with each other.
How do you make newcomers feel welcome inside - and outside - of the classroom? Have you ever been a newcomer? How did people make you feel welcome?
Acitivity Ideas for Newcomers:
Students can create a presentation about their home countries or a travel brochure that includes linguistic and cultural tips related to their countries.

Screen the movie, "I Learn America" and host a classroom conversation using our free viewer's guide.