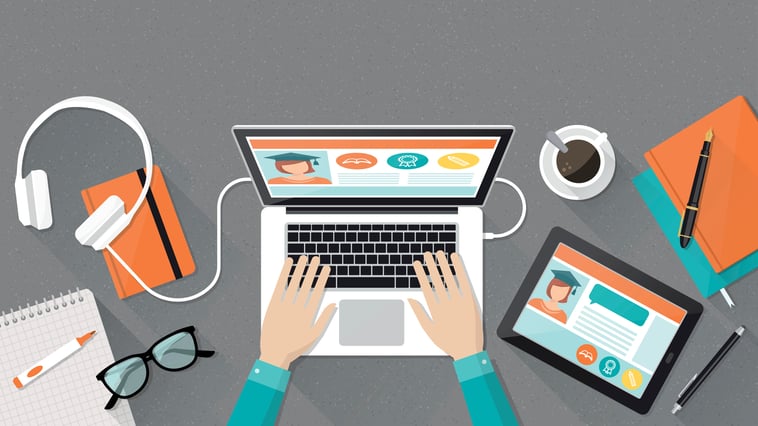 There's a lot of technology out there. Much of that technology makes its way into the classroom, helping teachers bring their lessons to life and helping students learn in ways they couldn't before. Tomorrow is Digital Learning Day, a nationwide celebration that started as a way to actively spread innovative practices and ensure that all youth have access to high-quality digital learning opportunities no matter where they live. But it's also about how educators can learn with each other through technology.
Here are four ways you can celebrate Digital Learning Day and the role technology plays in your life.
Sign up for one of our upcoming webinars: Facing History offers multiple webinars for educators to expand their teaching on topics from "Holocaust and Human Behavior" to "Teaching in a Time of Terrorism." It's a great way to get introduced to new content and teaching strategies and to engage with other educators and Facing History staff all from the comfort of your own home.
Join us for our Community Conversation on March 15: "Journalism in the Digital Age: A Youth Lead Community Conversation with Wesley Lowery." You can join us in Chicago or online via livestream to explore the changing role of journalism in a democratic, digital society. This event will feature Wesley Lowery, a journalist for the Washington Post and Chris Benson, Associate Professor of Journalism and African American Studies at the University of Illinois at Urbana-Champaign. Facing History's Community Conversations are sponsored by The Allstate Foundation. Read how Tom Wilson, CEO of the Allstate Corporation is encouraging corporations to take on societal problems to change the world for the better.
Explore our unit, "Facing Ferguson: News Literacy in a Digital Age": The way we receive and consume news is changing with the role of technology. None of this was more apparent than with the 2014 fatal police shooting of Michael Brown in Ferguson, Missouri. The shooting became a flashpoint for a national discussion about race, policing, and justice in the United States. The media and protests that followed were largely driven by social media, exposing the need for us to explore the ways we can become informed and effective civic participants in today's digital landscape.
Read and share our tips for communicating online: It's never a bad idea to brush up on the best ways to communicate online when you cannot rely on important factors such as facial cues and tone of voice. Considering many young people interact this way through social media, our tips can be a useful reminder for them as they continue to build social skills in a digital world.
Check out how others around the world are participating in Digital Learning Day and share what you're doing for #DLDay with @FacingHistory!