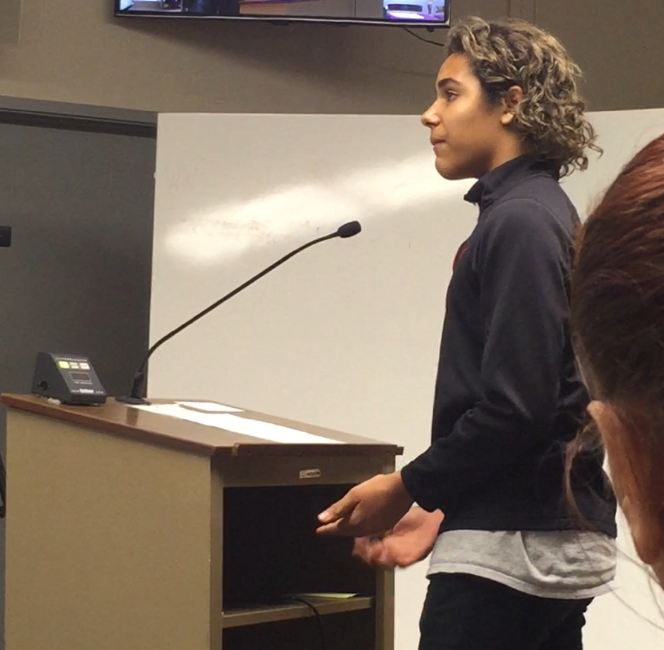 Kobi Johnsson knows the importance of a name. That's why he felt he needed to take action when he learned his middle school's namesake was an influential leader in the Eugenics movement. He and his father, Lars, set out on a three-year journey to change David Starr Jordan Middle School to something more inclusive.
"We can't name a school after somebody who wouldn't want unity or integration," says Johnsson. "Schools are supposed to be a safe space for everybody to learn and understand. That name was not symbolizing that."
Now a sophomore at Palo Alto High School in Palo Alto, California, Johnsson first learned about Jordan's connection to Eugenics in 2014 through his 7th grade Facing History teacher, Millie Gonzalez-Balsam. She highlighted how the Eugenics movement informed and shaped Nazi ideology of a pure race while the class studied The Diary of Anne Frank. When she later gave her students an assignment to research anyone of their choosing, Johnsson chose to write about David Starr Jordan.
Gonzalez-Balsam wasn't surprised.
"Out of all of the students in the class, I could really hear the passion and outrage from Kobi when we talked about Eugenics and David Starr Jordan," she says.
Johnsson ended his book report with a poignant question:
Why would a public school—meant to welcome students of all backgrounds—be named after someone whose core beliefs excluded people based on race?
This was something both of his parents wanted to know as well. He and his father set out to raise awareness and eventually, sat on the school committee to investigate the issue.
For Johnsson, going up against adults to confront issues of race, belonging, and identity taught him a lot about himself.
"If I see something that is wrong I need to stand up and say something," he says. "I can't just hope someone else will deal with it."
As a bi-racial student, he appealed to the school board to try to understand what it means to be part of or feel part of an unwelcoming environment.
As adults, Johnsson's parents and his former teacher, Gonzalez-Balsam, watched him grapple with complicated topics. The debate to change the school name was divisive with many concerned they were losing their history and their identity.
"It's very difficult to talk about race in our school," says Gonzalez-Balsam. "Kobi pushed forward for this and I was really proud of him."
Johnsson credits Facing History with giving him the confidence to do this.
"Facing History gave me the resolve to continue fighting for something I knew was worthwhile," he says. "It gave me a lot of confidence to address this with adults on the committee."
The hard work paid off for him. In March 2017 the school board voted unanimously to change not only the name of David Starr Jordan Middle School but also Louis Terman Middle School, which was named after another Eugenicist. Another committee, which his mother Sara will sit on, will come up with alternative names for the school board to consider.
Who does Johnsson want his former middle school to be named after?
"The school should be named after someone who represents the community," he says. "It should be someone who was a good citizen, who stands up for what is right, and helps other people."
While he won't be involved with determining who that is, he's taken the lessons he's learned from this and carried them into his high school career. It inspired him to take the social justice track at his school and gave him the confidence to know his actions matter.
"I now know I can stand up to something that isn't right," he says. "If I put my heart and mind into something I can really make a difference in my community."
Help your students learn more about the Eugenics movement with our resource, Race and Membership in American Society: The Eugenics Movement."
Photo Caption: Kobi Johnsson appeals to his school board to vote in favor of changing the name of David Starr Jordan Middle School.