April is Genocide Awareness and Prevention Month. Throughout the month, we'll be featuring stories on Facing Today that reflect upon genocide throughout history. Hearing personal stories of survival can be a powerful learning experience. In this post, we're shining a light on the inspirational stories of two genocide survivors.
Through the Eyes of a Child in Terezin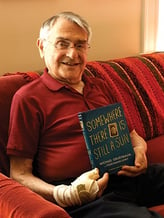 Michael Gruenbaum was only 12 years old when he was sent to Terezin (also known as Theresienstadt), a concentration camp in the Czech Republic, during the Holocaust. It took him decades to finally share his story of survival through his book, Somewhere There is Still a Sun, which was a 2015 National Jewish Book Award finalist. Gruenbaum knew that as he got older he'd only have so much time to tell the world what happened to him. He chose to write his book for middle-school students so they could read a coming-of-age story about the Holocaust from the eyes of someone their own age.
Gruenbaum is a longtime friend of the organization and his book, which has a free online study guide, will now be featured in Facing History classrooms across the country. "To have my book be in Facing History classrooms is something beyond my wildest expectations," he said. This brings some of his life story full circle: his son, Leon, was in the first Facing History classroom in the 1970s. Somewhere There is Still a Sun will soon be published in Germany and has been selected to be a nominee for the 2016-2107 Dorothy Canfield Fisher (Dorothy's List) Children's Book Award; this is the fifth award for the book.
One Bosnian Survivor's Message to Students: "There is no 'us' and 'them.'"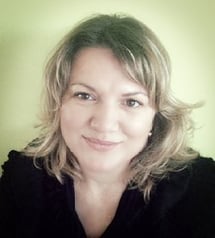 Jasmina Cesic narrowly escaped the former Republic of Yugoslavia when she was only twenty years old. As she walked down the street holding her husband's hand, a mortar exploded. It killed her husband instantly and left Jasmina gravely injured; she lost her right arm. She became the first Bosnian refugee granted permission to seek medical career in the U.S. Since then, it's been her mission to speak to students all across the country – including Facing History classrooms – about the atrocities Serbians committed against her and other Bosnian Muslims from 1992-1995.
Speaking about her survival is still hard for Jasmina but she considers it an important part of her life, especially for younger generations. "Students are our future leaders," she said. "They might get so inspired to make a difference in the world. Schools are the best place to start that." And for Jasmina, she's seeing the impact she has: students often embrace her with hugs after her speeches, and, most importantly, they've told her how she's inspired them to not to give up with their own personal struggles. She speaks for her own healing and to make sure our younger generations do not repeat mistakes of the past. "I want students to understand how quickly things change if you do nothing," she said. "They need to realize there is no 'us' and 'them.' Once that distinction is made, it's very dangerous." You can read about Jasmina's inspirational story in her book, The River Runs Salt, Runs Sweet.
How has survivor testimony inspired you? Share your thoughts with us during Genocide Awareness and Prevention Month.
Want to use survivor testimony in your classroom? Check out our resources and teaching strategies so you can create an effective lesson.