The foundation of a good story is a cast of characters that shape our thoughts about the world. That's certainly the case for Scout Finch in Harper Lee's beloved novel, To Kill A Mockingbird. As a young white girl, she is forced to question her community's spoken and unspoken rules when her father defends a black man falsely accused of a crime in 1930s Alabama. She and her brother, Jem, struggle to define their identities in relationship to the values of their small, segregated Southern town.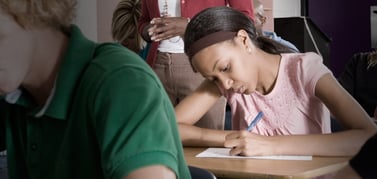 Harper Lee's classic has been generating dialogue in classrooms across the country about issues of race, inequality and injustice since it's release in 1960. Facing History developed its
Teaching Mockingbird
resource, and
new lessons
connecting Mockingbird with Lee's newly published novel,
Go Set a Watchman
, to guide teachers and students in just these topics.
We hope you'll keep the conversation going another way: by participating in our 2016 Student Essay Contest! United States-based teachers and students will have the chance to win prizes - including a $2,500 Upstander Scholarship for the winning submission from a high school senior - by responding to our essay prompt that explores themes of identity, community and belonging.
Stay tuned for our full prompt, which will be available on February 16. For now, here's what you need to know:
Submissions will be accepted from

February 16

until

March 16

.

It is open only to U.S. students in the 7th through 12th grades.

Students must be 13 years or older to submit an essay.

Educators of all winning students will receive a prize, as well as free access to a

Teaching Mockingbird

online course

!

This essay contest will allow students to explore conversations about justice, about goodness, about living in a divided society, about making difficult choices, and about the possibilities of social change.
Educators and students, submit your contact information and we'll send you next steps right to your inbox. Educators, you will receive tips for sharing the contest with your classroom and school along with resources to get your students ready to write. Students, you will receive ways to spread the word about the contest with your friends and classmates, inspiration for your essay, and the prompt as soon as it's released!