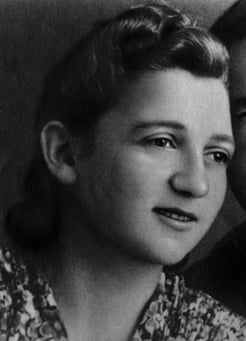 Sonia Orbuch, a Jewish partisan during World War II, recently took the time to answer questions submitted to her by students from AJ Elementary School in East Prairie, Missouri. Her story shines a light on Jewish resistance, which offers a contrast to the narrative that Jews were helpless victims during the Holocaust. Partisans were members of an organized body of fighters that formed to protect themselves from the brutality of the Nazi regime. Approximately 20,000 to 30,000 Jews escaped from Nazi ghettos and camps to form or join organized resistance groups.
Read her answers to these children's questions in this three-part series to learn about how she joined the partisans, what life was like in the forest, and the dangers she faced resisting the Nazis.
Check out Sonia's full story in her memoir, Here, There Are No Sarahs, and watch her video testimony on the Jewish Partisan Educational Foundation's website.
What year were you born and how old were you when World War II began?
I was born in 1925. The war started in 1939. I was 14 years old. There were two years when the Soviet Union, the Russians, occupied my part of Poland and that time was relatively peaceful for my family and me. On June 22, 1941 the Germans broke their agreement with the Soviets and re-invaded our town of Luboml within 72 hours. The Soviet army retreated. Things got very bad very quickly. I was 16 years old then.
What problems did you face with the Nazis?
First, they killed many of our town leaders and elders in order to terrorize us. They forced us to leave our homes and live in a crowded Ghetto and then they murdered our family members. They were brutal killers.
How did you all get along?
Although there was sadness and fear until we joined the partisans, we got along well with each other throughout the war. We relied on each other and would not have survived if we did not get along. Once we were able to join an organized fighting force our morale improved because we had jobs to do and we were busy and part of a great effort to defeat the Nazis.
How did you stick together during the war?
I was able to stay with my parents and survived with them with the Soviet partisans as resistance fighters. This was possible because the partisans were well organized by the time we joined them. They treated us as a family and gave us a family tent so we could be together after our daily duties. But my two brothers were lost. The oldest brother was drafted into the Soviet army and he was lost in the war. My other brother left the ghetto with a group of friends to fight but he was also killed in battle. All in all, even though, I survived with my parents, the Germans and their collaborators killed 60 members of my extended family.
Why did you join the partisans and how old were you?
I joined the partisans with my parents when I was 16 in order to survive and to have a chance to fight back. Without that chance the Germans or their collaborators would have killed us in the forest or we would have died of exposure and starvation.
What kinds of situations did you face when you were fighting the Nazis?
In the partisans, we each had different jobs. I was assigned to help the doctor with caring for wounded fighters. One time I was at the front of a large battle, and I was there for 10 days. I saw many wounded and dying fighters and I worked with the doctor to save as many as we could with limited supplies.
How did it feel to be in this situation?
It felt good to be fighting back against these murderers. I felt that if I was going to die, I would die as a fighter and this made me feel strong.
Want to know more about what life was like in the forest? Stay tuned for part two, which will be posted tomorrow at 11a.m. ET. In the meantime, check out a lesson featuring Sonia's story from our resource in partnership with the Jewish Partisan Educational Foundation, "Resistance During the Holocaust: An Exploration of the Jewish Partisans."