Arvaughn Williams is one of two finalists from the Facing History 2015 Student Essay Contest. He entered his spoken word poem as a student at City Arts and Technology High School in San Francisco, California. Arvaughn shares his thoughts about what the contest did for him and his advice for students entering this year's contest inspired by To Kill a Mockingbird. Stay tuned for another Q&A with Shireen Afzhal, our other finalist from last year, for more encouraging words about entering the 2016 Student Essay Contest.
The deadline for submissions is March 16th at 5:00 p.m. EST. You could win some fantastic prizes for you and your teacher so get ready to write!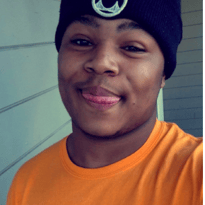 What have you been up to since you were a finalist in last year's contest?
I have been super busy planning out my college career and I've been focusing on my writing, including my poetry and a play I'm working on. I've even expanded my poetry into making actual music and I'm looking into performing. I've also been working with Project W.H.A.T. on a three-year analysis report about the impact of parental incarceration on children.
What was your favorite aspect of the contest? What motivated you to enter it?
My favorite part was actually getting to perform my spoken word piece. It helps me tap into a part of myself that is spiritual, and it helps me envision my life for the better. What motivated me was the encouragement and support I had got from those who actually cared about my success. I was able to not only believe in myself, but also become a victor with a national title. I really want to shout out Marni Spitz, my history teacher, who encouraged me to apply in the first place. If it wasn't for her I would have never know about the scholarship. She had such a strong faith that I would win, and I owe it all to her.
What advice would you give to students entering this year's contest? Do you have any writing tips to share?
The advice that I would give to this year's contestants is to have faith in your writing, and do your best to address the prompt. Don't be afraid to let your voice be heard. It's not about where you come from, it's about what you're doing while you're there. So, do what all the greats did: stand up, be proud, be brave, and face history. That is the only way the world can be changed for the better.
Check out Arvaughn's winning spoken word performance from last year's contest: