Shireen Afzal is a senior at the Woburn Collegiate Institute in Toronto, Canada. She was one of two finalists in the 2015 Student Essay Contest. In this Q&A, she'll share her thoughts on the contest, what motivated her, and give advice for students entering this year's contest inspired by Harper Lee's To Kill a Mockingbird.
Time is running out to enter! Don't miss out on the chance to win great prizes for you and your teacher! The deadline for submission is Wednesday, March 16 at 5 p.m. EST.
What have you been up to since you were a finalist in last year's contest?
This year I have mainly been focused on my final year of high school, maintaining my grades, and making plans for my future year at university. However, I am still constantly writing on the side, whether it is short stories or poems about issues I believe need to be brought to the public's attention, and I look forward to more writing opportunities in the future.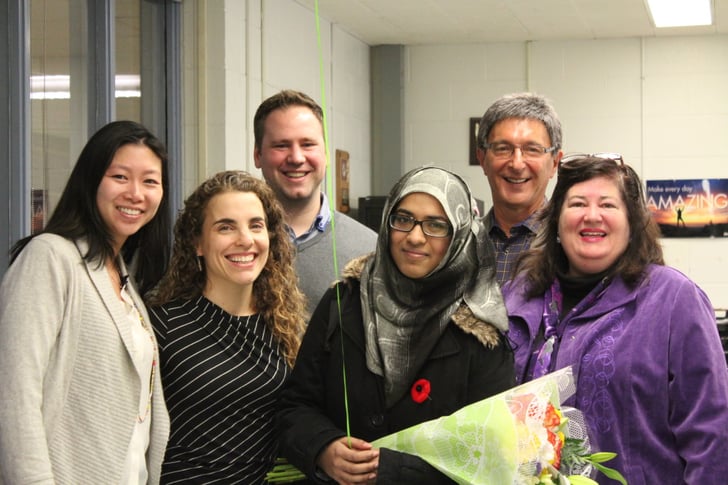 Facing History and Woburn Collegiate staff join in celebrating Shireen's win. L to R: Jasmine Wong, Leora Schaefer, Ben Gross, Shireen Afzal, Ron Hoffman, and Karen Hume.
What was your favorite aspect of the contest?
My favorite aspect was how broad the topic was and how many possibilities there were. The contest didn't state that to change the world you had to be a humanitarian worker, a politician, or the leader of a large-scale organization. Rather, you had to genuinely look into yourself, your strengths, and how you could bring about change, no matter how significant, but within the realistic limits of your capabilities. That was also the most challenging part because it was difficult narrowing down what exactly it was that I wanted to do. At first the contest was just another scholarship opportunity that I wasn't necessarily excited about or certain I was going to take. However, when I sat down and actually started writing, I realized that the questions this contest was asking were all questions I had been searching answers for in myself. The earnest desire to figure out those answers was my motive.
What advice would you give to students entering this year's contest? Do you have any writing tips to share?
My advice to students entering this contest is don't try to write about something you know you're not. Just think first of what you really want to do, what you believe to be important, what you're good at, and how you can use your strengths to accomplish something meaningful. It doesn't have to be large scale, it doesn't have to be life changing, and it might not even be realistic for some years. But as long as it is a possibility you can see yourself doing, as long as you genuinely consider your contribution to change as something worthwhile, then no idea is too cheesy, too out of this world, too big, or too small.
Don't be afraid to use personal experiences, stories or events you have encountered, or refer to other figures that might have inspired you. But also, don't forget that this is about you, and right now you are the one doing the inspiring. I suggest writing down your thoughts on paper first, crossing out words, adding new things here and there until you are left with a solid idea. After you know where you are headed with that idea, you can start worrying about the structure and begin organizing your ideas. Once you have a rough draft, have it checked by at least two people – a fresh pair of eyes does wonders – and incorporate any criticisms into creating a final, polished piece.
Read Shireen's winning essay from last year's contest!