Life was pretty happy and full. Now on December 13, there came change that turned our world upside down. - Mr. Chen Deshou, a survivor of the Nanjing Atrocities
December 13th marks the 78th anniversary of the Nanjing Atrocities, when the lives of thousands of women, men, and children were turned upside down. This assault by the Japanese Imperial Army took place from December 13, 1937, through the end of March 1938. During this time soldiers ran riot in the captured Chinese capital, unleashing a spree of violence, murder, and rape on the population.
Popular memory--and much history teaching--begins World War II with Europe in 1939. An increasing number of people know something of this history and of the genocide that took place at Europe's center, the Holocaust. Fewer know about the Eastern "theatre" of war and the genocide that took place there.
The commemoration of the Nanjing Atrocities provides an opportunity for acknowledgment and reflection on that horrific event. And, it provides us with the opportunity to consider our collective neglect of this history and the questions it raises.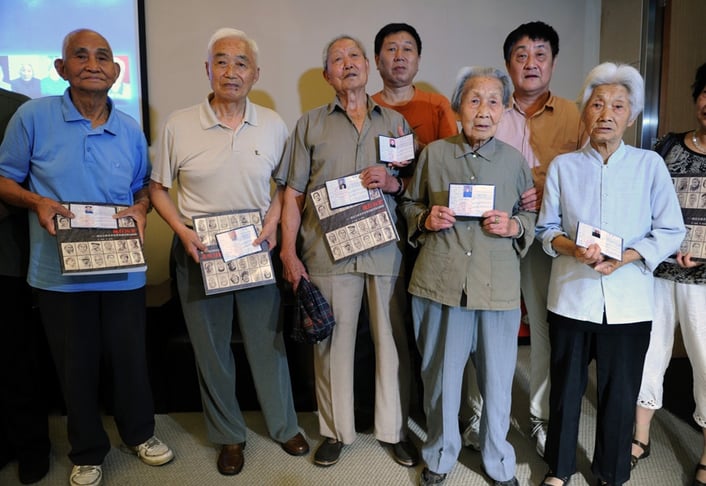 Survivors of the 1937 Nanjing massacre pose for a photo during a ceremony in Nanjing on July 6, 2013.
Evidence of these atrocities exists in the testimonies of survivors, soldiers, and witnesses, as well as in photographs, films, and legal records. Yet, this history is virtually unknown. There is the lack of official acknowledgment by the Japanese; a misrepresentation of events as part of "war"; and, a focus by Westerners and others on the West and on Europe. There is also intentional forgetting and conscious misrepresentation. Scholars of genocide have referred to this as a form of denial.
What happens when genocide and mass violence are not formally acknowledged, when they are denied or misrepresented?
One consequence is that the victims bear the burden of telling their stories, of proving what happened. There are now too many examples of the effects of denial and lack of acknowledgment. One form that it takes is the transmission of trauma from generation to generation. A lack of acknowledgement affects individuals, communities and – in the case of China and Japan – the relationships among peoples and nations.
This creates an ethical component to teaching the history of genocide, a way of acknowledging human suffering and decision-making in its many forms. And, for events such as the Nanjing Atrocities that are neglected or denied, the study of this history also acts as an act of acknowledgement, of witnessing.
There are many reasons to teach about the Nanjing Atrocities. It opens our eyes and hearts to a critical event in our collective history. It helps us to better understand the range of human behavior, the motivations of perpetrators and the acts of moral courage by others. It sheds light on choices made by extremists, violence that could have been prevented, and the implications for individuals, communities and, indeed countries, when atrocities are forgotten and denied.
Yet it is a story which I feel must be told, even if it is seen by only a few. I cannot rest until I have told it…I believe it has no parallel in modern history. - George Fitch, a member of the Nanjing Safety Zone Committee.