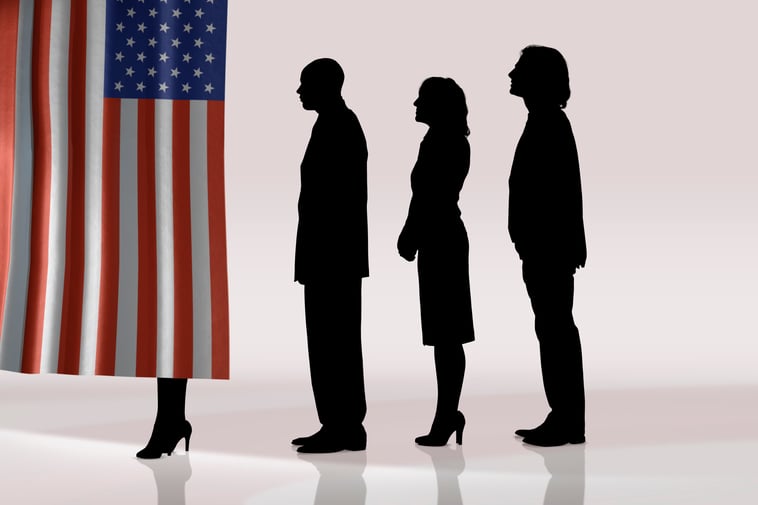 Earlier this month, New York announced it would share its voter data with the Presidential Commission on Election Integrity. California is still resisting the request from the Commission in June that all 50 states hand over voter-roll data. The Commission was launched in May by President Donald Trump to investigate his claims that between 3 million and 5 million illegal votes caused him to lose the popular vote in the 2016 US presidential election. Initially, 44 states and the District of Columbia refused to hand over certain data due to privacy concerns. Voting rights groups are also concerned about efforts to suppress voters. This tension between the states and the voter fraud investigation reveals multiple perspectives about the controversy. Here are three to consider in your classroom.
The Integrity of the Vote:
The key argument to the president's commission on voter integrity is that it will bring forward the truth about voter fraud during the 2016 presidential election. Vice President Michael Pence, who serves as the chairman on the commission, noted in a statement from the White House:
"We can't take for granted the integrity of the vote. This bipartisan commission will review ways to strengthen the integrity of elections in order to protect and preserve the principle of one person, one vote because the integrity of the vote is the foundation of our democracy."
Ken Blackwell, former secretary of state for Ohio, who also serves on the commission, noted in an op-ed:
"Liberals and conservatives may argue over which government roles are essential, but everyone should agree that protecting Americans' right to choose their leaders is the most important one."
Unsubstantiated Claims of Voter Fraud:
While some believe voter fraud puts American democracy at risk, research has shown that there is little evidence to support President Trump's claims. According to David Becker, executive director of the Center for Election Innovation and Research:
"Voter fraud at any scale even approaching the scale [President Trump is] talking about would be easily discovered, most likely before the election. Many are very concerned about the effect of these unsubstantiated claims on voters' confidence in our democracy, and the hard work that election professionals of both parties are doing to ensure that every vote counts, and that only those eligible can vote."
An Effort to Suppress Voters:
The request for full voter-roll data from all 50 states, including information that is not typically part of public record, has caused concern over privacy and concern that this data may be used to block people from voting in the future. Liz Kennedy, director of democracy and reform at the Center for American Progress, notes:
"We have reason to fear that a commission that stems from President Trump's blatant lie of three to four million illegal votes ... will use this as an opportunity to lay the groundwork for the nationalization of the voter suppression effort that's been sweeping the country the last several years."
Others, like Jason Kander, secretary of state for Missouri, share the same fear:
"This is the first time that a president is going to create what looks like a public, national database of who voted for which party. Never before could a private business with one request get this much data. But now, there's an opportunity to hand over information to them, whether it's a business, a criminal or a foreign government."
Examining this current event can help students think critically about the role of voting and civic engagement in a healthy democracy: What do these different viewpoints and perspectives offer about ideas of inclusion and exclusion? How does this compare with previous moments of tension about voting in the United States? You can use the different viewpoints above to guide your discussions in the classroom or at home with your own children. The important thing is to face these societal tensions and come to an understanding that allows us to move forward together.
Explore issues of democracy with our featured collection, "What Makes Democracy Work?" Use this collection of lessons, podcasts, and blog posts to teach your students about the fundamentals of democracy and the importance of engaged citizenship.