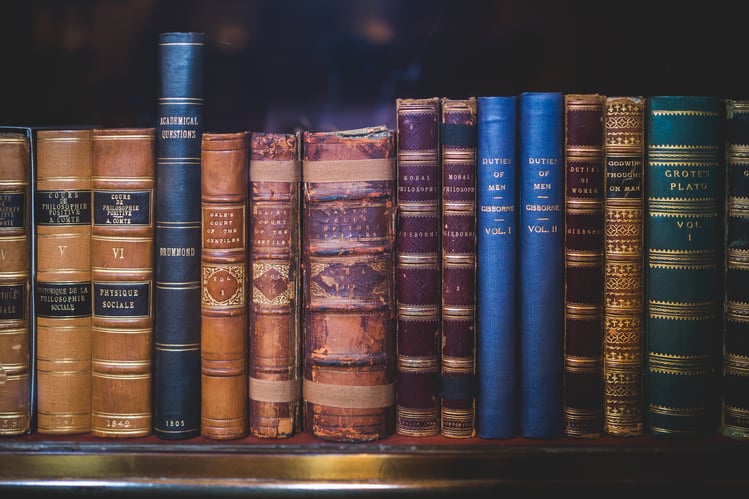 Daylight hours are dwindling, and temperatures are cooler. What better time to hunker down inside and take a book break? Books can fulfill many human needs: increasing our knowledge, broadening our empathy, making us laugh, inspiring us, or entertaining us. The best books achieve several at once. Here are a few titles that we hope you find engaging and take you deeper into the themes, histories, and questions at the heart of Facing History and Ourselves.
Teachers, find suggested Facing History resources and tools that tie into each book recommendation to build upon and expand your lessons.
The Best Man, by Richard Peck.
Newbery Award-winning young adult author Richard Peck often subtly tackles social issues in humorous and engaging ways in his novels. In his latest, The Best Man, he introduces us to Archer Magill, who we follow through elementary school as we learn about Archie's relationships with the important men in his life: his father, his grandfather, his Uncle Paul, and his fifth-grade teacher Mr. McLeod. Archie senses that these men are different in various ways, but isn't initially tuned into the fact that both his uncle and his teacher Mr. McLeod are gay. In this coming-of-age tale, Peck sparks a discussion for young readers about same-sex marriage as Archie matures and learns that there are many ways to "be a man."
Explore our unit for sixth graders on identity and community to helps students explore the multiple factors that shape our identities, including the people and places closest to us.
The Fire This Time: A New Generation Speaks About Race, edited by Jesmyn Ward.
This anthology's title is a play on James Baldwin's powerful civil rights era exhortation, The Fire Next Time. National Book Award winner Jesmyn Ward takes inspiration from Baldwin's words and uses them as a catalyst for this collection of essays and poems about race that feature important voices from a new generation of Americans. Contributors include Isabel Wilkerson, Natasha Trethewey, Claudia Rankine, Carol Anderson, and other notable writers. The anthology includes essays, memoir, and poetry, and is divided into three themed sections: Legacy, Reckoning, and Jubilee. This would be a great book to use in a high school social studies class, for an adult book discussion group, or just to read on your own.
Read our blog post on why we should discuss race in the workplace and our blog post on how to have difficult conversations in a productive way.
Hearts on Fire: Stories of Today's Visionaries Igniting Idealism into Action, by Jill W. Iscol, with Peter W. Cookson Jr.
There's Amy Lehman, a gutsy single mother who is building a floating health clinic on Lake Tanganyika; Jimmie Briggs, a journalist campaigning to stop violence against girls and women; and Jacob Lief, a young American who founded a school for street children in South Africa. These are just a handful of the many stories in this collection of upstanders making a difference. The profiles are derived from interviews, and include the activists' own words, as well as photographs. For those of us wondering about how we cultivate hope in times of uncertainty or how we find our own voice to make a positive difference in the world, this book is for us.
Borrow a class set of Hearts on Fire from the Facing History Library or explore the teaching guide for Hearts on Fire.
The Risk of Sorrow: Conversations with Holocaust Survivor, Helen Handler, by Valerie Foster.
In this intriguing book, Valerie Foster, an Irish-Catholic public school teacher, shares the story of her relationship with Helen Handler, a Jewish survivor of Auschwitz who came to speak to Valerie's students one day, but ultimately became her close friend. The story, which includes much of Helen's Holocaust experience, also reveals the impact on Valerie of her friendship with Helen. As their relationship deepens, and Helen continues to share her history with Valerie, these two women from different generations and experiences discuss such topics as faith, forgiveness, love, survival, hope, and despair. Although not a Holocaust survivor memoir, The Risk of Sorrow reminds us about the particular horrors of the Holocaust and also about the universal connections that bind us to one another, and the enduring legacy and meaning of the Holocaust in our world today.
Explore our Witnesses to History page for resources on how to use testimony in the classroom, our collection of Holocaust testimonies, and information on how to request a speaker for your classroom.
We Came to America, by Faith Ringgold.
"We came to America, every color, race, and religion, from every country in the world." The verse that anchors this lovely rhyming picture book encompasses a vision of America that is inclusive and diverse. Immigrant stories, as well as those who came to America involuntarily or were already here are portrayed with dignity and beauty by artist Faith Ringgold. Her simple poetry and text combined with her sumptuous images make this book accessible for early elementary readers as well as anyone who appreciates art that expresses the diverse tapestry that is "the American people."
Explore our resources on global immigration, including a lesson featuring US Ambassador to the United Nations, Samantha Power, talking to students about the global refugee crisis.