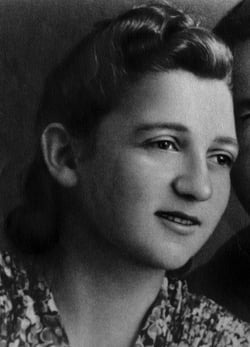 In part two of our three-part series, "My Life as a Jewish Partisan," we dive deeper into what daily life was like as a Jewish partisan living in the forest during the Holocaust. We recently shared the beginning of Sonia Orbuch's partisan story, which starts in 1942 in the forests of Poland. She shines a light on Jewish resistance, which offers a contrast to the narrative that Jews were helpless victims during the Holocaust. Students from AJ Elementary School in East Prairie, Missouri submitted their questions to Sonia. Read her answers to glimpse into her life as a resistance fighter.
Check out Sonia's full story in her memoir, Here, There Are No Sarahs, and watch her video testimony on Jewish Partisan Educational Foundation's website.
How many partisans were in your group? How many altogether were in the woods with you?
Our battle group was called a rota, or company, and this had about 35 people in it. This was about a third of a battalion. Our battalion was one of twelve in our brigade, the Fyodorov-Chernigovsky brigade, named for its valiant leader, Alexei Fyodorov. Usually we were with our small company on a daily basis - but sometimes we would come together for large actions or when we went deep into the forests in our winter quarters in the deepest part of the winter months. That is when the brigade came together as a larger group.
What were some things boys did that girls did not?
When my brother, Meir, escaped the Ghetto with his friends to form a group to fight the Germans in the forest, I begged him to take me along. My mother also wanted me to go as she thought this was the only way I would survive. He said they would not take girls along - that was a rule they had decided. Later, when I joined the partisans, generally the men were assigned to be fighters and demolition experts and the women were in support roles working as medics, and in the food and supply lines. Some women were assigned to be couriers, and I have heard of others who were assigned to join demolition teams to blow up supply trains.
Where did you go to the bathroom?
In the forest.
Did you keep pets?
No, there were no pets. We had to be very disciplined so we could not take such chance.
Did you train for surviving in wet and cool conditions?
There was no training for our family when we first escaped to the forest. Later, when we joined the partisans there was better shelter and warmer clothes because the partisans were organized to protect ourselves so we could carry out our missions to disrupt the German war effort, mainly by destroying German supply trains and train tracks.
Did you separate yourselves based on skill?
Yes, if you had certain skills that could be useful to the battle effort you would be assigned to work in that area. The mission came first always and if the partisans needed you because of your skill, you had to obey.
What kinds of weapons did you use?
There were rifles and grenades. I was given a long, gray military blouse with two pockets, each for a hand grenade—one for the enemy and the other to use on myself if I were about to be captured.
Want to know more about the dangers Sonia faced and what it was like to fight the Nazis? Stay tuned for the final Q&A in our three-part series, which will be posted tomorrow at 11a.m. ET.
In the meantime, gain a better understanding of Jewish resistance during the Holocaust, with a lesson from our resource in partnership with the Jewish Partisan Educational Foundation, Resistance During the Holocaust: An Exploration of the Jewish Partisans."