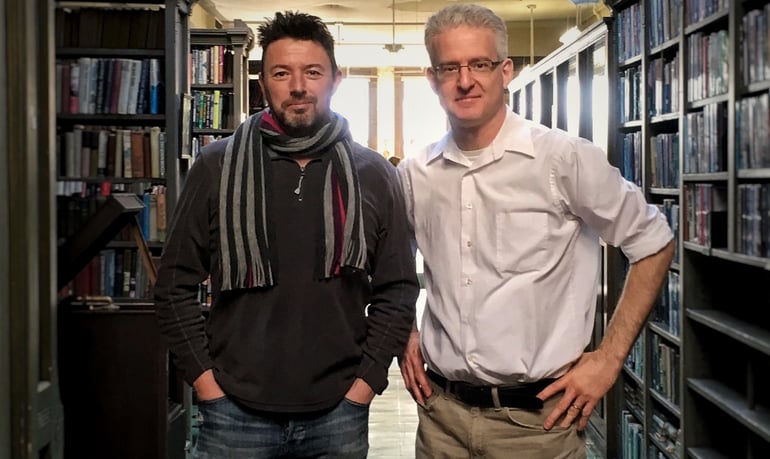 Understanding violence is a difficult task, especially for students. Whether it's mass violence in history or the violence of today—like the recent mass shooting at Marjory Stoneman Douglas High School in Parkland, Florida where 17 people were murdered by a former student. Both adults and young people are left to grapple with why these events happen and how to process them.
Saul Fussiner and Donal O'Hagan recognized this years ago. The two met when O'Hagan, a teacher in Belfast, Ireland, won a Margot Stern Strom Innovation Grant in 2014, which brought him to Fussiner's school in New Haven, Connecticut. They eventually began collaborating on a play, "Fathers Without Sons," which explores violence from two different angles: the sectarian violence in Northern Ireland and police brutality in the United States. One character is an Irish-American whose mixed race son was killed in a police incident. The other is his cousin who lost a son to "The Troubles" in Northern Ireland.
The two teachers-turned-playwrights are currently searching for theaters to produce their play, which weaves together a story that speaks to how violence can shape our identities, thoughts, and beliefs about the world around us. In this Q&A, they share their thoughts on this difficult topic and the role educators can play in helping their students make sense of it all.
Why did you choose to focus on violence, particularly the conflict in Northern Ireland and police violence in the US?
SAUL: When Donal was visiting my school, kids who had studied a little bit about Northern Ireland asked how he could live somewhere so violent. They did not think about the fact that their neighborhoods suffer from violence as well. They were used to their own neighborhoods. It is easier to see what you know in a nuanced way. When you study something far away, and you study the violence there, that can be all you think about. I wanted our play to be about the impact of violence on regular, nuanced characters.
How do we get students to think more critically about their surroundings in the context of other places?
DONAL: Teachers have to think critically and be conscious of that critical thought. That must become part of the learning culture, not just of the classroom but the school and preferably the community the school is rooted in. Creating nuanced critical thinkers is vital for democracies but a threat to power.
What are the similarities and differences you see in how schools in the US and schools in Northern Ireland process violent events?
SAUL: Donal speaks of Northern Ireland as not having a shared identity as a country. And I think America is also a very split country. How an Alabama school and a Connecticut school might each teach about the American Civil War can be completely different. I think being Nationalist or Unionist in Northern Ireland can be a lens through which you interpret reality quite differently just as being a Democrat or Republican does over here.
Where do you think young people fit into the narrative of how to process violent events in a country?
SAUL: Students teach me how to process difficult issues. Last summer, after Philando Castile and Dallas and the many other examples of violence, I asked my civics students to teach me how these issues should be processed by the press and the people and educators and the police. Adults have no answers and we keep messing things up even more. The same is happening this year with the school shooting in Parkland, Florida. Our politicians say they send thoughts and prayers. Or they say we have to address the issue of mental health. They ignore the gun question. They ignore the white supremacist angle. Kids are willing to look at things broadly, whereas adults are often stuck in one ideology or another. Students want to think about these things and help make change around them.
Where does empathy fit into understanding violence? How does your play address this and what are the challenges?
DONAL: Approaching this with my students in Northern Ireland is tough because our classrooms are largely segregated (between Protestant and Catholic), so empathy can be a conceptual thing with little purchase on reality or something fragile that breaks upon contact. But teachers are products of their environments and not every teacher has the tools or, in some cases, even the inclination to address these topics. On the one hand, we have to be careful of what we think teachers should or could be doing but it takes investment—money, conferences, talks, and lectures. Theoretically, we are trying to bring kids together. Storytelling, drama, and Facing History strategies are used in these contexts, or at least in my tiny hidden-away school.
SAUL: All storytelling teaches empathy to an extent because it absorbs one into the story of another. Our play ends on a moment of just a tiny bit of hope, but not a full catharsis. The characters' situations are awful and I don't want to disrespect them by letting them come to an easy resolution. I want the audience to be stirred, not relieved, at the end. There is a lot of horror in America that needs to be looked at with eyes open.
How will you help your students process the violent shooting in Parkland, Florida, along with other complex events? Consider using our lesson, "After Parkland, Students Choose to Participate." As you do the difficult work of acknowledging this tragedy with your students, answering their questions and processing their concerns, you can also use this lesson to address the ways that young people are choosing to participate as upstanders and civic agents.
Photo Caption and Credit: Donal O'Hagan (left) and Saul Fussiner (right) at the Institute Library in New Haven, Connecticut; Photo courtesy of Shy-Von Bostic,.