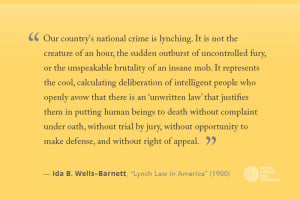 Sam Hose. Thomas Moss. Elias Clayton. Keith Bowen. Jesse Thornton. William Little. Jeff Brown.
They are just seven names of thousands of black Americans murdered by lynching, many of which were included last week in a report from Bryan Stevenson's Equal Justice Initiative (EJI) that identifies victims of lynching between the end of Reconstruction in 1877 and 1950. It's a list that could go on for pages and, yet, still to this day remains incomplete.
The history of lynching remains widely unknown today, especially among many white Americans.